Francisco González receives the Sorolla Medal from the Hispanic Society of America
BBVA Chairman Francisco González received last night in New York the Sorolla Medal with which the Hispanic Society of America distinguishes public figures and institutions that stand out for their contribution to Hispanic arts and culture. Along with BBVA Chairman, Mario Vargas Llosa, Nobel Prize in Literature, and Carlos Fitz-James Stuart, the Duke of Alba, were also awarded.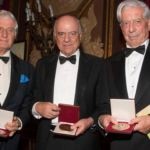 During his address, Francisco González stressed that "the global nature of BBVA and its focus on digital transformation have in no way altered one essential part of our DNA:  the rich and plural Hispanic culture that unites us with an immense community, with shared language, values and aspirations."
The Chairman added that BBVA shares with the Hispanic Society of America the conviction that the "promotion of culture, arts, science and social responsibility is one of the most efficient ways to widen the horizons for individuals and societies. It makes societies more plural, tolerant and innovative, and improves their social welfare, health and growth."
Francisco González also reiterated BBVA's commitment to "work for a better future for people". And he emphasized the "wide variety of activities and programs in culture, fine arts, music, scientific research, financial education and financial inclusion in Spain and Latin America that we promote through the BBVA Foundation, The BBVA Microfinance Foundation and the Bank itself."
The Sorolla Medal 
The Hispanic Society of America grants since 1924 the Sorolla Medal, which pays tribute to the Spanish painter, to distinguish institutions and people for their contribution to the Hispanic arts and culture.
Founded by Archer Milton Huntington in 1904, the purpose of the Hispanic Society of America is to promote Hispanic culture in the United States of America. The Society's museum and library boast over one million works, which make up the most important Spanish art collection in the United States.