From an agricultural engineer to a reinvented man: a Venezuelan migrant's challenge
An agricultural engineer, a painter, a baker, a shoemaker, Jorge Domínguez is a modern day "Renaissance Man." He is also a 63 year old Venezuelan migrant in Pamplona, Colombia that fled his country three years ago in search of a better life for his family.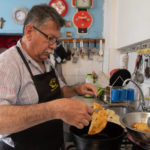 Armed with grit and purpose, he started from scratch with limited resources and has taken up new jobs and skills to make a living. Nevertheless, his aspirations go beyond his family's well-being, as he says: "It's not only necessary to provide for ourselves, but also for the community of Pamplona". 
Jorge is just one out of the more than 1.8 million Venezuelan migrants that Colombia has received in the last few years, according to the Colombian Government. The displacement crisis in Colombia is a reality that can't be ignored and unfortunately, the daily challenges and precarious economic activities of migrants and refugees have been exacerbated by the COVID-19 pandemic and the subsequent confinement policies. Many of them live off informal jobs carried out in the streets. In fact, out of necessity, according to the Colombian Migration office, some 14,000 Venezuelans have returned home.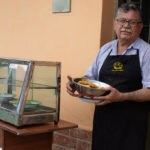 Jorge Domínguez, Venezuelan entrepreneur served by Bancamía
Aware of the complexity of the reality of these migrants in Colombia, this past September, Bancamía, the BBVA Microfinance Foundation entity in Colombia, pledged to provide loans, financial education and access to savings accounts to Venezuelan entrepreneurs in border areas such as Cúcuta and Pamplona, ​​in Norte de Santander; Bucaramanga and Girón, in Santander, as part of an initial pilot program. Thanks to this initiative, Jorge was able to buy supplies and set-up his small businesses. 
Bancamía's Vice President of Risk, Óscar Romero, participated in a webinar hosted by Tent Partnership for Refugees (Tent) and the Global Compact Colombian Local Network, to showcase Bancamía's progress and announced three new advances to scale up this commitment. As of May 2020, the institution has provided savings and credit products and financial to more than 3,800 Venezuelan migrants. Gideon Maltz, Executive Director of Tent, noted that "the efforts of Bancamía have been indispensable, since very few Venezuelan refugees in Colombia have access to financial services. Other financial institutions should follow the example of this entity and find ways to expand and adapt their products and services to serve this population."
"The institution has provided savings and credit products and financial to more than 3,800 Venezuelan migrants"
To scale up this impact, the United States Agency for the International Development (USAID) recently contributed US $2 million to expand the scope of Bancamía's ongoing Productive Entrepreneurship for Peace program (Empropaz), to assist this Venezuelan population with financial inclusion processes, specialized entrepreneurship trainings and socio-business strengthening of entrepreneurs and microentrepreneurs.
Bancamía also signed an agreement with the International Finance Corporation (IFC) to design adequate solutions and products for the migrants based on their challenges and needs. Likewise, Romero reported: "We have been defining an alliance with the Chamber of Commerce of Bogotá, where we would facilitate access to financial products and services to the Venezuelan microentrepreneurs they reach through their business training and education programs."
Today, due to the crisis, Jorge's once thriving pastry micro-business among students and restaurants in Pamplona is operating at half capacity but thanks to payment relief programs set up by BBVAMF's entity in Colombia, following the guidelines established by the national Financial Superintendency, to address the current needs and realities of the entrepreneurs, Jorge is coping amidst the uncertain times. However, for now, Jorge is certain about one thing, he must persevere in order to achieve his dream of seeing his children become professionals in Colombia and own a plot of land to dedicate himself to farming, his passion.