The Frontiers of Knowledge Award for Ecology goes to Ilkka Hanski for work on the survival of species in fragmented habitats
The Finish ecologist Ilkka Hanski has been awarded the BBVA Foundation Fronteras del Conocimiento (Frontiers of Knowledge) award for the Ecology and Biology of Conservation category. The jury recognized this scientist's work in creating a new branch of ecology, known as metapopulation biology, combining field work with mathematical models to examine how habitat fragmentation by human actions affects species.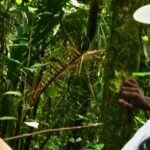 Ilkka Hanski is a professor of Zoology at Helsinki University. His work is of huge importance for establishing protected areas, creating biological corridors, planning environmental impact assessments for major infrastructure projects, and, in general, for all conservation work and optimization of protected areas to minimize the impact of human action on other species.
Professor Hanski's work concentrates on metapopulations, particularly their biology. This branch analyzes the survival of a species when its habitat is fragmented and its populations remain in contact through colonization. "If we want to understand species' natural dynamics, we have to first understand metapopulation networks", Professor Hanski explains.
His objective is to determine the number, size and connectivity of populations required to preserve a species in an environment of shrinking habitats. "Human activity increases the degree of fragmentation, so it is vital to know what the consequences are", Professor Hanski says. "Metapopulation theory helps us devise strategies to improve population survival. A typical example would be the optimal design of a reserve, deciding how it should be organized so it can fulfill its function with the least possible impact on species".
The biology of metapopulations applies to many species and its principles have spread to other disciplines. For example, in oncology it can be used to study the behavior of populations of tumor cells, and in epidemiology knowledge of the size of a metapopulation network could help to combat an epidemic.
Professor Hanski's has spread the reach of his work into other fields, including human health. He is interested in the relationship between the human immune system and the various populations of microorganisms that inhabit the body. "After all," he says, "for our microbiome we ourselves are fragmented habitats, and it is intellectually fascinating to work with colleagues from other fields, such as immunology". His tireless endeavors over three decades have earned him a place on the prestigious roll of honor of award winners of the BBVA Foundation Frontiers of Knowledge Awards.