The Frontiers of Knowledge Awards celebrate their 10th anniversary
The Frontiers of Knowledge Awards presented by the BBVA Foundation every year to recognize scientists and creators, who with their work, contribute to push the limits of human knowledge, and improve the lives of millions of people.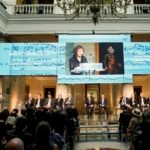 Created in 2008, with the collaboration of the Spanish National Research Council (CSIC) and with a financial endowment of 3.2 million euros, these awards recognize essential contributions to face the great challenges of the 21st Century. The quality and independence of its judges throughout these ten years of life have given the Frontier Awards great prestige within the international scientific community, which participates by presenting the nominations from the most important academic and research institutions in the world.
During the months of January and February, the BBVA Foundation headquarters in Madrid will again receive the eight international judges in each category, who will announce the winners of this tenth edition of the awards. The winner of the Climate Change Award will be the first announced (January 9). It will be followed by Information and Communication Technology (January 16), Basic Sciences (January 23), Biomedicine (January 30), Conservation Ecology and Biology (February 6), Contemporary Music (February 13), Economics, Finance and Management (February 20) and Development Cooperation (February 27).
Prelude to the Nobel Prize
Five of those awarded in the previous editions of the Frontiers of Knowledge Awards have later received the Nobel Prize: Shinya Yamanaka, 2010 Biomedicine Frontiers Award winner and Nobel Prize winner in Medicine 2012; Robert J. Lefkowitz, winner of the 2009 Frontiers Award in Biomedicine, and a Nobel Prize in Chemistry in 2012. In Economics, Finance and Management, three of the Frontier awardees later received the Nobel Prize in Economics. Lars Peter Hansen, 2010 Frontiers Award winner and 2013 Nobel Prize winner; Jean Tirole, 2008 Frontiers Award winner and the Nobel Prize in 2014; and Angus Deaton, winner of the 2011 Frontiers Award and the Nobel Prize in 2015.
In the latest edition, the mathematicians David Cox and Bradley Efron received the Basic Sciences Award for their pioneering contributions to the science of statistics; Emmanuelle Charpentier, Jennifer Doudna and Francisco J. Mojica were awarded in Biomedicine for their creation of the revolutionary CRISPR/Cas9 genome editing tool; Geoffrey Hinton was recognized with the Information and Communication Technology Award for his discoveries in the field of machine learning; Daron Acemoglu, was awarded in Economics, for establishing the essential role of institutions in economic development; James Hansen and Syukuro Manabe, were awarded in climate change, for their fundamental contributions to developing mathematical models of the climate system; Pedro Alonso and Peter Myler, received the Development Cooperation award, for their contributions to the detection and prevention of complex infectious diseases like malaria and Chagas disease; and Sofia Gubaidulina, was recognized with the Contemporary Music Award, for the exceptional range and quality of her original music.