Fundación Másfamilia recognizes BBVA for working to achieve work/life balance for 10 years
Fundación Másfamilia has honored a group of companies, including BBVA, for their commitment to the work/life balance of their employees and for their efforts in terms of equality and diversity.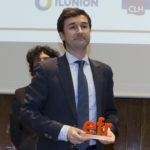 The Health, Social Services and Equality Minister, Dolors Montserrat, has chaired the 10th Anniversary celebrations of Fundación Másfamilia. During the event, the efr certifications were granted to institutions that earned this work/life balance seal in 2016.
BBVA was honored for its 10-year efforts bearing this certification, with the commitment to preserving work/life balance values. "We know that diversity and work/life balance are key ingredients for attracting and retaining talent and for our success as an organization," stressed Ricardo Forcano, Talent and Culture Director at BBVA, when he received the award from the hands of the minister. "What we have achieved during our 10-year collaboration with Fundación Másfamilia is not enough. We want to keep promoting new measures and initiatives across the Group." Ricardo Forcano pointed out how important it was that there were quality certifications such as efr, which is recognized by the UN since 2012. "In the words of physicist Lord Kelvin, 'If you cannot measure it, you cannot improve it'."
Minister Dolors Montserrat emphasized the importance of companies that work toward work/life balance and equality. Her speech focused on the need for state institutions to work with companies, institutions and society in general "with the aim of establishing synergies that allow us to achieve a national agreement for work/life balance and rationalization of working hours."
Over the last decade, the efr certification has consolidated its status as a unique tool that enables work/life balance processes in companies and institutions. This event gave visibility to the best corporate practices in Spain over the last 10 years.
In total, more than 550 companies have obtained this quality seal, which benefits around 500,000 employees and their families, with 80 new institutions joining the list this year.