BBVA Group unit Garanti Bank in conjunction with the World Bank's International Finance Corporation (IFC) has issued a six-year social bond worth $75 million dollars to help finance women entrepreneurs in Turkey.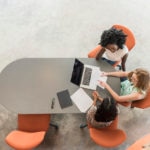 This is the first social bond with female businesswomen exclusively in mind issued in Turkey and also the first of this nature by a private bank in emerging markets. Proceeds from the issue will be used to provide women entrepreneurs with financing of up to TL 400,000 for terms of up to 36 months.
The issue comes under the umbrella of Garanti's pioneering commitment to female entrepreneurs, which has been ongoing for over a decade and includes educational support and other forms of assistance.  Garanti has provided total finance worth TL 5 billion for this emerging section of the business community over the past 12 years.
"This agreement signed with IFC is another milestone in our longstanding efforts within our women entrepreneurs support program launched in 2006. We're happy to be able to obtain fresh funding for women entrepreneurs to help them contribute to economic development," said Fuat Erbil, CEO of Garanti Bank.
Fuat Ebril said Garanti Bank is "proud" of being the first Turkish bank to bring this unique funding instrument to market. "This product has newly emerged in the global capital markets and Garanti Bank was able to execute the deal also without posting any collateral," he said.
"We will continue to attract new funding for innovative products to finance both our women entrepreneurs and sustainable projects which are aimed at contributing to the United Nations' Sustainable Development Goals," he added.
BBVA's Pledge 2025
In line with the European Commission's Action Plan on Sustainable Finance, BBVA has recently announced its Pledge 2025, the Bank's climate change and sustainable development strategy designed to make progress in the achievement of the UN Sustainable Development Goals (SDGs) and the Paris Climate Agreement.
This is an eight-year commitment (2018-2025) based on the three pillars of finance, management and commitment. BBVA undertakes to mobilize €100 billion in green and social finance, sustainable infrastructures and agribusiness, social entrepreneurship and financial inclusion.