Garanti BBVA Partners initiative announces new round of entrepreneurs
Garanti BBVA Partners, an initiative launched by Garanti BBVA to support the entrepreneurial ecosystem, has announced its new activities and participants. The initiative champions the transformation of innovative ideas into sustainable enterprises and provides concrete support to this end.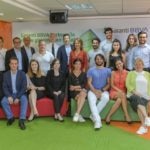 In addition to providing support to entrepreneurs who are in the process of establishing new businesses, Garanti BBVA Partners has also committed to helping innovators who lack the resources or methodologies to bring their novel ideas to life. The bank's entrepreneurial support initiative will continue to foster sustainable growth and strategy development during the upcoming iteration of the program.
The Application phase for the first first round of the 2019–2020 Garanti BBVA Partners Acceleration Program — a program that provides training, mentoring, and office assistance — closed on August 7. A selection committee consisting of more than nine senior level business executives chose six entrepreneurs to participate in the upcoming round of the Garanti BBVA Partners program. The selection committee was comprised of BUBA Ventures Manager, Neda Soydan; Valuta Capital Partners Founding Partner, Umur Özal; Asartech Founder, Burkay Alan; Eurasia Invest Managing Partner, Gökhan Alpman; Meltem Çora of TUGİM; Özgül Öztürk of Akşam Newspaper; Garanti Technology Unit Manager, Şahin Dalbudak; Garanti Investment Corporate Finance Director, Metin Özhan; and Garanti BBVA SME Marketing Manager, Selin Öz. The entrepreneurs who have been chosen for the program will receive the full support of the program with the aim of nurturing their projects through implementation.
All initiatives with an viable product or service, operating for less than three years, and with a quantifiable business model were eligible to apply for the program. This year, the successful candidates were Safetech, Bulundum, Fazla Gıda, Sertifier, Engelsiz Çeviri, and Business for Aging Friendly Community.
To date Garanti BBVA Partners, which was launched in 2015 in order to support early-stage enterprises, SMEs, and up-and-coming initiatives of all sizes and from all sectors, has helped almost 50 entrepreneurs fast track their projects.