Garanti BBVA is aware of the role that teachers play in promoting quality education. For this reason, since the restrictions began in March 2020, the bank and its ÖRAV Academy have transformed the content they offer teachers through their platform, enriching it with additional information and training apps so that teachers can adapt to the changes following the pandemic.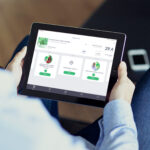 Garanti BBVA founded ÖRAV in 2008 for the personal and professional development of teachers. The foundation occupies a prominent place among Garanti BBVA´s social investment programs and is the first and only non-governmental organization focused on this area in the country.
In addition to these initiatives, in September 2020 it launched a series of online seminars called 'Teachers Without Distances,' designed with the purpose of managing the distance education process in a more efficient manner.
Together with local authorities, 17 topics were chosen based on the needs of teachers across the country and training programs were launched that allow teachers to participate in the process andput their knowledge to work. The interactive seminars are delivered through eKampüs, a platform that ÖRAV created in 2009 as a pioneering initiative and has 20,000 active users.
The 'Teachers Without Distances' webinar series will be offered throughout the year in 81 provinces. It consists of presentations that address topics such as adaptation and change management in education; the design and management of distance education learning; communication aimed at finding solutions; developing the capacity for creative thinking; storytelling with an emphasis on problem solving; classroom motivation and management in distance education, and collaboration between teachers and parents in distance education.