Garbiñe Muguruza: "We are the best players of the year, it's going to be a war"
Garbiñe Muguruza has reached the WTA Finals in Singapore, the last tournament of the year, which pits the year's eight best tennis players against each other. Now that she's recovered from a twisted ankle she suffered in Linz, she will face off against Karolina Pliskova, Svetlana Kuznetsova, and the reigning champion, Agnieskza Radwanska. The WTA Finals mark the end of a great year for Garbiñe, who won her first Grand Slam after beating Serena Williams in Paris.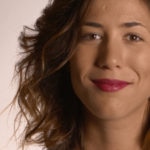 Q: How are you feeling after your fall in Linz? Were you worried you wouldn't make it back in time for the tournament in Singapore?
A: I was. I was really worried because my ankles are my weak spot. It doesn't take much to injure them. They get all swollen, and I get nervous. But luckily, it wasn't anything serious.
Q: What do you think about your second year among the top eight players in the world?
A: Being one of the eight best is great for my career. It shows that I'm one of the best. Making it here is a gift for all of us, so I'm totally motivated to go as far as possible.
Q: What's your approach to the tournament? What do you think of the other players, and what do you hope to achieve?
A: We are the best players of the year, and all the matches are tough. I'm here to fight for my spot and try to do my best. It's going to be a war.
Q: Give us a quick appraisal of the season.
A: This year has had a little bit of everything. There were good times and some not-so-good times, but I don't think anything can ruin it after winning a Grand Slam. It's like a dream come true.
Q: What are you going to do in the off-season?
A: What am I going to do in the off-season? I have no idea. I'm thinking. I'm planning something, but I can't tell you anything yet.
Q: Is 2017 going to be the year of Garbiñe?
A: No one knows what's going to happen in 2017. I hope it's another good year for me. I think this was a very good year, just like last year. So I hope I can maintain the same level in 2017.