It's hard to believe, but it's already been a year since the last time we were here. We arrived at Singapore yesterday, and now we're gearing up to, hopefully, do things right in the year's last tournament. It will be extremely hard, because only the season's 8 best players play in the WTA Finals. As you know, Serena will not be here, but the tournament is going to be just as hard.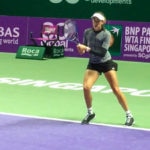 After the Asia tour and the China Open, we went back to Europe. After assessing the situation with my team, we decided to play the Linz tournament when the chance popped up. Only one Top-10 player is allowed to play at each International-level tournament. At first, I wasn't actually planning on playing there, but since I didn't want to depend on the other players' results and I wanted to secure a spot at Singapore, we had made clear that, if there was a chance to play Linz or Moscow, that I'd be willing to. Finally, the option to play at Linz came up, so Sam and I went over there. It is a small, but very well organized, tournament. It was a bit cold already there, so I had to buy a jacket… I didn't pack "properly" for that time of year.
Since I didn't want to depend on the other players' results and I wanted to secure a spot at Singapore
Things were running smoothly until I twisted my left ankle during my quarter-final match. My ankles and me go a long way back, they are always there, ready to 'grab my attention.' I've had a few ankle injuries throughout my career. I even had to undergo a procedure on one of them, so they tend to swell up immediately after I twist them. And that is what happened in Linz. The thing is that I got scared, a lot. I thought it was going to be bad. I tried to keep playing because I knew that my Singapore spot was at stake, but I couldn't risk it. I was still there when I found out that I had classified.
So here we are. As I had a doctor's appointment to get an MRI scan, I made the most out of the weekend and Monday to get other tests done, because I never have time for anything.
And on Tuesday morning we took off toward Singapore. It was a long flight and we got here before dawn. So here I am, still a bit confused with the time change. I have great memories of last year's tournament and hope to be able to be back in shape by Sunday or Monday. The tournament starts on Sunday, but I still don't know when I'll be playing. It depends on the group I'm in. The draw will take place tomorrow, so we may have more news then. Anyways, I have to get going… I have to get on with my training and gym routines and my treatment with my physiotherapist. Now is time for physio… hugs and kisses to you all.
Garbiñe