For the third time, BBVA's corporate banking has won the international publication's highest accolade in the latest edition of its 'World's Best Bank Awards', which set the standard for excellence in the financial sector.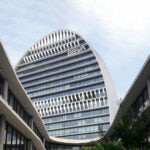 This is the third time that BBVA's banking services and corporate customer relationship model receives Global Finance's highest recognition, following wins in 2019 y in 2021. Through these services, the bank provides companies with solutions that help them increase sales, reduce costs, manage financial risks, and strengthen relationships with their various stakeholders (customers, suppliers, and employees).
Winners of the 'World's Best Bank Awards' are selected based on their performance over the past year, together with other criteria such as reputation and management excellence. "For three decades, business and banking decision-makers have relied on the Global Finance Best Bank Awards to help them distinguish between the good financial partners and the best," says Joseph D. Giarraputo, Founder and Editorial Director of Global Finance.
The ceremony to recognize the winners of this edition will take place on October 14 in Marrakech (Morocco), coinciding with the annual meeting between the World Bank and the IMF to be held in the country between October 9 and 15. The magazine will also publish the complete report of the world's best banks, both in its print and digital editions.
The differential value of the business
BBVA Corporate & Investment Banking (CIB) has a wide diversification among products and countries, combined with its proximity to and knowledge of customers and the geographies in which it operates, which allows it to have a cross-cutting vision of customers and their entire value chain. BBVA CIB is a global investment bank with local presence and expertise, offering institutions and companies tailored, innovative and sophisticated financial advice and solutions to optimize their investment and financing operations.