Global Finance singles out Garanti Bank as the best mobile bank in Western Europe
International publication Global Finance selected Garanti Bank as the 'Best in Mobile Banking' in the Western Europe category and the 'Best Digital Bank in Turkey', establishing the bank's position as one of the world's leading financial organizations this year.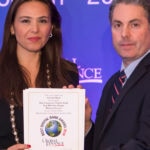 Executive Vice President of Garanti Bank Digital Banking, Didem Dinçer Başer received the awards on the bank's behalf at the ceremony in London. Garanti Bank was also presented with four additional awards for 'World's Best Website Design', 'Best Website in Western Europe', 'Best Integrated Consumer Bank Site Western Europe' and 'Best Social Media Marketing & Services in Western Europe' in the retail banking category.
Didem Dinçer Başer stated her satisfaction with Global Finance's recognition: "In addition to the awards we received in Turkey, we are very glad to have been named 'Best in Mobile Banking' in Western Europe by Global Finance," adding, "They demonstrate publicly the value we create for our customers. We will continue to steer the digital banking sector with the innovations we contribute and the value we create."