Glory of Spain Exhibition makes its last stop in the U.S. at MFAH, courtesy of the BBVA Foundation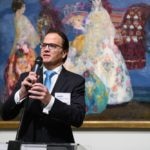 The BBVA Foundation was the lead underwriter for the exhibit, creating an opportunity for MFAH to host Glory of Spain for its last stop in its U.S. tour. BBVA USA President and CEO Javier Rodríguez Soler, alongside Gary Tinterow, Director, The Margaret Alkek Williams Chair, MFAH, participated in a client preview and media tour on February 26 and 27 respectively in anticipation of its March 1 opening.
"I have only been in Houston for a short while, but I particularly appreciate the opportunities to be a part of the bank's long-standing partnerships with organizations like the Museum of Fine Arts, Houston," said Rodriguez Soler. "Most organizations that offer access to the arts and cultural experiences are typically non-profit and rely heavily on the support and collaboration of patrons and corporate donors who share their vision. We believe access to the arts can play a major role in a city's quality of life, and we are proud to have the opportunity to provide support for exhibits like this. Glory of Spain is an especially significant collaboration for us given the bank's global roots in Spain and the vast Hispanic population here in Houston and in Texas."
Glory of Spain highlights themes such as Antiquity in Spain, Medieval Spain, Golden Age Spain, Viceregal and 19th-Century Latin America, among others. Artists represented in the exhibition include Francisco de Goya y Lucientes, El Greco, Bartolomé Esteban Murillo, Jusepe de Ribera, Diego Velázquez, and Francisco de Zurbarán.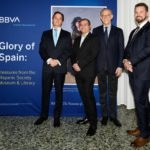 From left to right: BBVA USA President and CEO Javier Rodríguez Soler, BBVA USA Director of Communications and Responsible Business Reymundo Ocañas, Museum of Fine Arts, Houston Director Gary Tinterow and BBVA USA Houston CEO Dillan Knudson.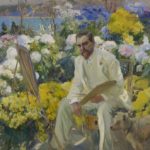 1911 Joaquin Sorolla y Bastida (1863-1923) Oil on canvas 150.5 x 225.5 cm