The path of devastation left by Hurricanes Harvey and Irma has affected more than tens of thousands of people along the Texas Gulf Coast and Florida. According to BBVA Research USA, the economic impact of Harvey could reach $111 billion for Texas and $52 billion for Florida due to Hurricane Irma. Now as impacted communities transition to the recovery stage, many neighbors and people throughout the nation are willing to lend a helping hand. Here are a few ways you can assist with disaster relief efforts.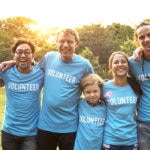 Help Fulfill Hunger
If you're in the Houston area, you can take part in Hurricane Harvey hunger relief efforts by donating ready-to-eat items or registering for long-term volunteering assistance with the Houston Food Bank. To further support the organization, dine at participating restaurants as part of Houston Restaurant Week, a citywide philanthropic effort where the proceeds from local eateries and 100 percent of their donations go to benefiting the food bank. The event started Aug. 1 and has been extended to Sept. 30 as a response to Hurricane Harvey.
If you're not local, making a one-time or monthly monetary contribution to the food bank is an option — every dollar provides three meals. Or, you can also help those impacted by both Hurricanes Irma and Harvey by  searching for donation and volunteering opportunities with other food banks across Texas or Florida through Feeding Texas and Feeding Florida, both nonprofit organizations of Feeding America with a statewide network of food centers.
Open Your Home
Over 80 percent of homeowners affected by Hurricane Harvey do not have flood insurance; 25 percent of the homes in the Florida Keys were destroyed by Hurricane Irma; and people, uprooted from their homes, still remain in Texas and Florida shelters. Through Airbnb, hosts have the option to list their homes for no charge to help those who have been temporarily displaced due to an inaccessible, uninhabitable or irreparable home. All hosts in the U.S. can open their doors for shelter, but Airbnb has emphasized the urgent need for accommodations near impacted regions in Texas and Louisiana for Hurricane Harvey evacuees and Florida and the Southeast for Hurricane Irma evacuees. Your home can also help to temporarily house first responders and relief workers.
Start (or Support) a Campaign
You can help maximize hurricane relief contributions by starting a fundraising campaign. To start a fundraiser, you can join crowdfunding communities such as GoFundMe which has grouped campaigns on landing pages for both Hurricanes Harvey and Irma. Many trending campaigns were initiated by the general public. However, some campaigns were organized by public figures like Houston Texans defensive end JJ Watt, whose Houston Flood Relief Fund raised over $37 million on the online crowdfunding platform YouCaring, which also has landing pages dedicated to Hurricanes Harvey and Irma.
If you're hesitant to start your own fundraiser or concerned with donating to campaigns created by the masses, you might want to consider contributing to the relief campaigns organized by Global Giving. The nonprofit organization brands itself as the largest global crowdfunding community that only donates to "vetted, locally-driven organizations" and has raised over $3.3 million for its Hurricane Harvey Relief Fund and over $900,000 for its Hurricane Irma Relief Fund.
Shop with a Cause
Turn your shopping experience into an humanitarian experience. With AmazonSmile, you can shop as you normally would through the online store, but 0.5% percent of your purchase will be donated to a charitable organization of your choice. AmazonSmile provides a list of nearly one million organizations to support, and you should be able to find an organization committed to the recent hurricane relief efforts. Also, Houston sport fans can help those affected by Hurricane Harvey by purchasing a "Houston Strong" t-shirt from local teams Houston Rockets, Houston Texans and Houston Astros. 100 percent of the shirts' proceeds will go to support the city's relief efforts or its Hurricane Harvey Relief Fund.
Become a Volunteer
Other than monetary donations, volunteering is still probably one of the most popular ways to assist with relief efforts. The nationally known recovery organization American Red Cross has volunteering opportunities which span from helping out at shelters to delivering lifesaving blood products to local hospitals. However, there are many other organizations dedicated strictly to volunteerism, such as All Hands Volunteers, a nonprofit organization providing disaster relief to communities throughout the world impacted by natural disasters. The organization currently has volunteering opportunities for both Hurricanes Harvey and Irma. Also, you can volunteer with Habitat for Humanity and help with repairing and building homes for hurricane victims.
People are not the only ones affected by the recent hurricanes — so are hundreds of pets. The SPCA of Texas and Houston and the Houston Humane Society all have opportunities to help out. Best Friends also has volunteering opportunities for Hurricanes Harvey and Irma. And, while donating your time, you may find interest in fostering or adopting an in-need pet.
You can search for other hurricane relief volunteering opportunities with organizations across Florida through Volunteer Florida and within the Houston area through Volunteer Houston.
---
Click here to contribute to those affected by Hurricanes Harvey and Irma. The BBVA Compass Foundation will match all donations up to $150,000.
For more information on how BBVA Compass is helping those impacted by Hurricanes Harvey and Irma, click here.

For more Hurricane Harvey and Irma articles and stories, click here.