Holography is now part of political campaigns in the United States and India.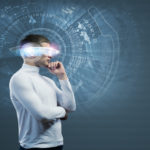 How to be in 140 political rallies at once. India, the second most populated country on the planet, with 1.2 billion people, has seen how Narendra Modi took advantage of the possibilities that holograms provide to his political career. Obsessed with social networks, Modi was named prime minister of India after beating Rahul Gandhi in May. The son of a tea merchant, he knew how to use technology to put an end to the Gandhis' reign and convince most of the 814 million voters.
To achieve this, he hired the services of the company Hologram USA, run by Greek multimillionaire Alkiviades David. A success that didn't go unnoticed by the powers who want to use the same model to get closer to citizens.
As highlighted by a recent article in the Washington Post, hologram technology is reaching the capital of the United States in hope that everything it's done for the entertainment industry in recent years (resurrecting the country's most famous artists) can be replicated in political campaigns. For now, no one has thought of "resurrecting" John Fitzgerald Kennedy next to Barack Obama, although in the country of entertainment, projecting realistic copies of politicians is on the agenda of all parties, whatever side they might be on.
The American newspaper mentions that Hologram USA, the company specializing in holographic technology, wants to replicate the Indian phenomenon in the streets of U.S. cities. Alkiviades David declared that he's an admirer of the Republican Senator from Kentucky, Rand Paul, and of Democratic candidate Hillary Clinton, "or of any other person looking to improve their communication with voters".
Jeffrey Taylor, managing partner of USGRI (U.S. Government Relations International)- the company that, alongside Hologram USA, is going to use the technology- and former Congress advisor, noted that the technology increases interaction between voters and the presidential candidates who simply can't make a physical appearance in all cities, even in crucial states.
We're going to be in New Hampshire with Clinton", explained Taylor. "She can make a remote appearance by means of a hologram in places that aren't possible to visit due to her schedule, answering questions in a kind of meeting in a virtual city hall", explained Taylor. "The only thing you can't do is shake her hand", he added.
Critics
There are critics, because people generally want to see candidates in person and in their city, and however advanced the technology may be, it's not able to achieve that. "Hologram technology has to complement the human element", said Zac Moffatt, digital director of the Republican Party candidate, Mitt Romney.
Neither must we forget that holographic technology is much more expensive than online chat, which candidates can do on Facebook and Twitter. "But is the impact on the voter greater than with Skype or Google Hangout, for example?" asks Moffatt.
Alkiviades David calculates that the cost of making holography a reality in the United States would be around 6 million dollars per month. Way over the budget of most Senator campaigns; a considerable investment even for White House candidates. Although, as the Washington Post points out, "the perpetual desire to make noise in American politics could encourage holography in both Democrat and Republican conventions, which normally try to outdo each other to attract media attention.
"With the advances in artificial intelligence, we'll soon be able to have holograms of presidential candidates and interact with them", wrote David Plouffe, who ran Obama's campaign in 2008, in The Wall Street Journal.
Beyond politics, David and Taylor see other reasons to improve the technology: "in military simulations and informative sessions, or for the President to be able to communicate with more Americans. He could be talking in a sixth grade classroom in Missouri without the travel and security expenses".
For those who are wary, Alkiviades David is categorical: "I think that everything we can write about it, evangelize or imagine, is not sufficient; you don't get the true impact of what it actually is until you see it", he concluded.