Sustainable businesses benefit the environment, their people and the community around them. But a focus on sustainability isn't just about giving back; it also makes good business sense.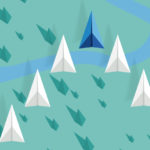 Sustainability "is good for humanity, but it's better for business," Jeffrey Hollender, professor of sustainability at NYU Stern and co-founder of Seventh Generation, told Business Insider. That's because when companies operate sustainably, they make choices that will allow their businesses, their employees and their communities to sustain — to last and thrive well into the future.
Consider these three ways sustainability translates into business benefits.
1. Sustainable companies create long-term financial value. Most business leaders don't plan to lead their businesses to extinction, but by making decisions that are based strictly on the here and now, that often happens. Sustainable businesses keep an eye on the future and reinvent and reexamine their strategies along the way to build long-term value. (Think of Shell Oil, which started as a shop selling actual seashells in 1833, and Nintendo, the video gaming company that started out manufacturing playing cards in 1889.) Today, that might mean restaurants are capitalizing on the food delivery craze or brick-and-mortar stores that are selling online.
2. Sustainable companies care about their employees. Companies that treat their employees well build stronger communities and stronger organizations that will last into the future. "If you treat your employees well, if you allow them to become owners of the company, they're more loyal, they're more productive, there's less turnover," Hollender says. For instance, a landmark study published in the Harvard Business Review showed that companies that offer ownership to their employees through Employee Stock Ownership Plans (ESOPs) experience faster growth, greater employee engagement and increased earnings.
3. Sustainable companies understand how their actions affect the environment and work to reduce their impacts. Taking care of the world around us and conserving natural resources for the generations to come is a crucial part of building a sustainable business. Companies that embrace environmentally friendly practices build goodwill with customers and their communities, as well as ensuring they will have the resources they need to grow into the future.
Today, forward-thinking companies like BBVA are embracing the United Nations Sustainable Development Goals adopted by all members of the United Nations with an aim toward accomplishing these milestones by 2030. These goals include ending poverty and hunger, as well as responsible production and consumption, clean water for everyone and minimizing climate impacts. While no one business can change the world alone, by working together, sustainable businesses, communities and individuals can make substantial progress.