How to break down silos, build trust, and collaborate better at work
Your ability to build strong relationships with colleagues is critical to the success of your career. It opens doors to key projects, personal development, mentoring opportunities and promotion.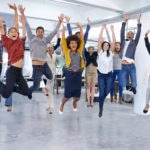 Cultivating workplace camaraderie has also been shown make you happier; Gallup's 2017 report, State of the American Workplace, showed that employees in the US with strong friendships in the office are seven times more likely to work effectively and enjoy what they were doing. In turn, happier employees can much more easily envision their future at a company, which is good news for both parties.
While it's important not to go too far, the conventional wisdom which guided employees to keep their professional and private lives separate is conventional no longer. As ever, it is the quality rather than quantity of your relationships that matters most. You can improve the quality of your work relationships by trying out the tips below.
1. Start with trust
In any relationship, trust is the most important component. Furthermore, as the Center for Creative Leadership explains, it is critical to team success in business.
According to a Society for Human Resource Management report, 61% of US employees say that trust between them and senior staff is very important to job satisfaction. A bedrock of trust establishes the basic expectations of the relationship: what you expect from your colleague, and your colleague from you. Once trust is established, people can focus on the tasks themselves, rather than second-guessing the motivations and expectations of the people they share tasks with.
More than anyone else at work, we trust colleagues who make decisions for the benefit of everyone, rather than for personal gain. These colleagues show you that they care about your future, as well as the growth and success of the company. Because they are transparent about the thinking behind their proposals and projects, other colleagues understand where they are coming from. They involve and value input from everyone who can or offers to help – and will often be heard encouraging others to share their ideas. They have an open mind and, if somebody suggests a different course, they are more than happy to change their opinion.
Trust can't be pitched, or artificially created. It develops from consistent actions that show colleagues you are reliable, cooperative and committed to the success of the team.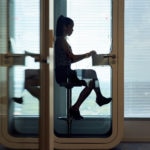 2. Collaborate, collaborate, collaborate
Working with other team members whom you have a great work relationship with can make work a lot more fun. But how do you get to the point where you share a great work relationship?
Trial and error. No person is an open book – getting to know them, their strengths, passions, and hobbies, takes time, and wires will get crossed on the way. Accepting this fact and not allowing yourself to get frustrated when something doesn't go according to plan is critical during the relationship-building phase. A person may not always do things your way, but that doesn't make them wrong, or less capable than you are.
The more you collaborate, the more you learn about your colleague, and the more opportunities you will have to demonstrate your commitment to a positive relationship. Moreover, as Forbes argues, with the help of recent studies, collaboration drives workplace performance.
As the stock of shared knowledge and experience between you grows, you'll see that there are an ever increasing pool of things for you to chat about, whether they are work-related or not. Speaking of which, meeting a friend at work doesn't mean you're only allowed to see them at work. If you both love playing football, for example, why not extend your collaboration beyond the work environment by starting a five-a-side team together?
At BBVA we want to create an environment where people are eager to come to work, where they enjoy what they do, where they can share a few laughs, their passions outside of work and talk openly about their challenges and their passions" Rob Brown, Global Head of UX & Design BBVA
3. Ignore artificial barriers
By establishing trust and collaborating patiently, you've been able to build some great relationships within your immediate team, and maybe even in the wider department. But you will only achieve your and your team's true potential once you begin replicating these same relationships outside of your department, as well as up and down the organizational hierarchy.
Organizations work best when they ignore artificial barriers like departments or hierarchies and enable anyone to collaborate with anyone.The Stanford Graduate School of Business backs up this claim, asserting that effective teamwork requires egalitarianism; a culture where all voices count. So always view yourself as working for the good of your company, rather than your department, and never be afraid to talk to the person you think will be able to help you.
Talk to your manager's manager. Talk to a Vice President from another department. You can even approach the CEO directly – if you think that's the fastest way to solve a problem for the benefit of the whole company. Moreover, as Elon Musk says, "you should consider yourself obligated to do so until the right thing happens."
These relationship-building tendencies have been an integral part of the cultural change that has taken place in the Group. As BBVA's Head of Strategy & Planning for Business Development Growth Markets, Antonio Bravo, explained, it was all about moving away from rigid organizational and functional structures, and towards a more collaborative way of working. Thanks to this, the implementation of transformation projects has been happening at an accelerated rate, meaning that each day our ability to create opportunities only gets stronger.
* To learn more about collaboration, life and career opportunities at a company that is leading the way for 21st century banking, please visit BBVA Careers and follow us on LinkedIn.