"Agile is a transformative journey of continuous learning for BBVA"
Ricardo Forcano, BBVA's Global Head of Engineering and Organization, participated in the Association for the Advancement of Management's (APD in Spanish) session on Agile Organizations, where he presented how BBVA is transforming its organization and work methods. "It's a constant learning process," Forcano said, referring to BBVA's efforts to incorporate  the agile methodology across all of its central areas. As a result, the bank is able to provide its customers new solutions more effectively.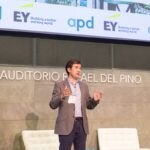 BBVA's commitment to agile began in 2014, when the first agile teams were launched in Spain and Mexico, working in small, multidisciplinary, autonomous groups with deadlines every two weeks. "The first goal was to improve the 'time-to-market' —the time it takes to launch new products in the market— but also the ability to adapt to customers' needs," recalled Forcano, who stressed that this first step brought many challenges in the organization, such as creating new work spaces, breaking down hierarchies, and dedicating teams to a single project on a full-time basis.
But the results were excellent, and in little time, the agile model was extended to the other countries where BBVA operates. In a little over two years, more than 4,000 people were developing solutions for customers using a methodology that for many years was thought to apply only to startups or tech companies.
"We found that teams working in agile were much more committed, as they could see the direct impact of their work on customers. At the same time, we also improved the quality of our products iterated,  adapting to customers' demands more quickly," Forcano explained.
This success was endorsed by Forrester, which recognized BBVA's app as the best banking app in the world and by the bank's rising Net Promoter Scores (BBVA has the highest scores in seven of its main markets). BBVA then analyzed whether it made sense to expand this system to all other central areas and across all types of activities — not just project execution. The answer was yes.
Central areas
"We decided to roll-out agile across all of the Group's central areas in a period of 12 months, which meant reaching 33,000 employees," said BBVA's Head of Organization, who added that the bank is about to achieve this goal.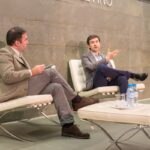 Ricardo Forcano during the event talking with Pedro Egea Castejón, EY's Workforce Advisory partner.
This challenge meant revising BBVA's organizational structures and work methods for which coaches were incorporated into the different areas to provide support.  In fact, BBVA has 260 people in ten different countries who are acting as agile coaches to help introduce the new methodologies, tools and ways of working. Most were trained as agile coaches in the internal academy that BBVA created to fill the lack of these professional profiles in the market, Forcano explained.
In parallel, the model used to manage people has also transformed to adapt to this new reality. A new leadership model was developed in which leaders are there to serve teams, putting the focus on sharing the strategy with them in order to give teams greater autonomy and execution capacity.
The single development agenda system, with its quarterly project prioritization process and dynamic resource allocation is also one of the pillars of this new way of working. "Every quarter the teams show their results — not with a presentation, but with real products. And every quarter, all projects are evaluated and prioritized to decide how many resources to allocate to them," Forcano said.
"This is is a transformative journey of continuous learning for BBVA," Forcano emphasized. In his opinion, that's the key to agile in order to be able to adapt to the changes in the market and address customers' needs in an effective manner.
For Forcano, this journey does not have a set destination — rather it will continue to extend into the future. The important thing is to incorporate the lessons into the organization. Forcano concluded that the keys to the success of any organization in the future are continuous learning and the ability to adapt to change.