BBVA accelerates its digital factory thanks to agile
BBVA keeps making headway in its transformation to become a fully digital organization. Madrid hosted a new quarterly global planning meeting where the company confirmed its commitment to materialize over 160 projects.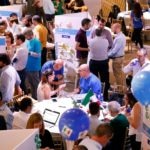 "At BBVA, agile is here to stay," said Ricardo Forcano, Global Head of Talent & Culture at BBVA, during the Group's global planning meeting. The event, which is organized in most countries in which BBVA operates, gathered over 800 employees in Madrid, to discuss the status of the more than 160 projects that the Group is carrying out in all bank areas: from Customer Solutions, Investment Banking or Finance, through Talent & Culture and Communications.
In order to guarantee a constant and faster delivery of customers solutions across the world, several of these projects are being carried out with 'agile' methodologies, said Luisa Gómez Bravo, Global Head of Investment & Cost Management, who welcomed the meeting's attendees. All the teams involved in the execution of the projects participated in the exercises, aimed at shining the spotlight on each project's needs, prioritizing them and committing to those that are actually feasible based on the available resources.
The celebration of these events is essential for BBVA because it allows teams to discuss the priorities of the different areas, establish quarterly targets and efficiently move forward in the execution of the SDA (the Group's single project portfolio). "These ceremonies offer a glimpse of the bank's priority projects, setting clear and realistic goals for the next quarter, and offering a sneak peak of the products or services that we will bring to our customers," added Luis Cembrero, Head of SDA Planning.
Based on what the project and execution teams (some of them working in scrums) agree on these meetings, the work for the next months is planned to achieve maximum efficiency and the optimal prioritization of resources. "They help align our strategy with the actual execution of the projects," said Cembrero. Also, thanks to 'agile', "we can quickly and efficiently execute our strategy, boosting quality, allocating resources based on the bank's priorities, guaranteeing that we always bring value (products or solutions) to our customers," said Cembrero.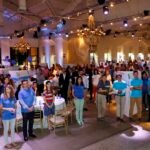 Ricardo Forcano, Global Head of Talent & Culture, during the meeting in Madrid.
This new way of working has helped BBVA slash production cycles, from the time ideas are conceived to when the global product or service is brought to customers across all geographies. Now, some projects are developed and launched in less than 9 months while the average time to market for the industry stands at two years.
BBVA's agile transformation is progressing at breakneck speeds: In 2017, there were about 4,000 people working in agile vs. 33,000 in 2018, following the Group's decision to expand the methodology across all core areas of the bank.
"Our values echo our purpose of bringing the age of opportunity to everyone: Customer comes first. We are one team. We think big. And agile fits perfectly with these three values," said Forcano. He went on to explain that by adopting a project-focused methodology, it allows the Group to "tear down functional silos", nurturing a new culture and leadership model.