BBVA secures the top spot in global mobile banking for the second year in a row. In a report published recently, 'The Forrester Banking Wave™: Global Mobile Apps Summary, 2018', Forrester Research, an independent research firm, singles out BBVA as leading the pack among nine global mobile banking leaders. This recognition comes a few months after the analyst firm gave BBVA the highest score for mobile banking in Europe. In 2017, BBVA also earned the first position in the global ranking, according to Forrester's  '2017 Global Mobile Banking Benchmark.'
Now, BBVA took the top spot thanks to "a superb balance between useful functionality and excellent user experience." BBVA "customers can complete a wide range of tasks through the app, which also offers a range of next-generation features such as [BBVA] Valora," says the Forrester Research report.
In this year's analysis, Garanti Bank is also featured as one of the nine global mobile banking leaders identified by Forrester. The report says the Turkish bank "combines excellent functionality and best-in-class UX [user experience]." In July, Garanti took the second position in the Forrester's 2018 European report.
BBVA´s Global Head of Client Solutions, Derek White, commented: "Our focus at BBVA is on giving our customers the very best banking experience, and this assessment by Forrester suggests we are continuing to do just that".
"What drives us is the determination to make banking better for people, to support their decision making and give them the information they need to bank in a way that suits them best – and increasingly, mobile is where our customers are doing that."
Forrester analyzed apps from 42 banks in 11 countries (Canada, United Kingdom, Poland, China, Turkey, France, United States, India, Australia, Italy and Spain) during February and March 2018. Based on the analysis of features and user experience, Forrester has compiled a list of the nine world's leading banks, including BBVA and Garanti. The nine mobile banking leaders continue to raise the bar.
Forrester Research says that apps have become the touchpoint of choice for millions of people to manage their finances. Consequently, banks need to build mobile banking experiences around customer needs, empowering customers to manage their finances while reassuring them with helpful support.
Sofía Rodríguez-Sahagún, Head of Digital Transformation at BBVA Spain, said "achieving the highest level shows that we are able to continuously deliver new features to the client that make decision-making easier. We achieve it with transparency, preserving security, thinking about it from a flexible, agile internal organization with tools and digital talent".
A superb balance between useful functionality and excellent user experience
As of June 2018, BBVA has 25.1 million digital customers (26 percent more than one year ago), of which 20.7 million are mobile customers (+43 percent yoy). Also, digital sales already account for 39 percent of the total number of units sold. In Spain, the bank has 4.6 million digital customers. Of these, 3.6 million are mobile customers. Digital sales now account for 42 percent of total units.
Financial aggregator
Also, Forrester Research explains in its report that "many customers need a clear picture of how much money they will have by the end of the month". On this point, the report states that BBVA is one of the banks that shows "customers' information from their accounts at other banks directly on the mobile app's home screen." BBVA rolled out this feature in January this year, after PSD2 regulation came into force.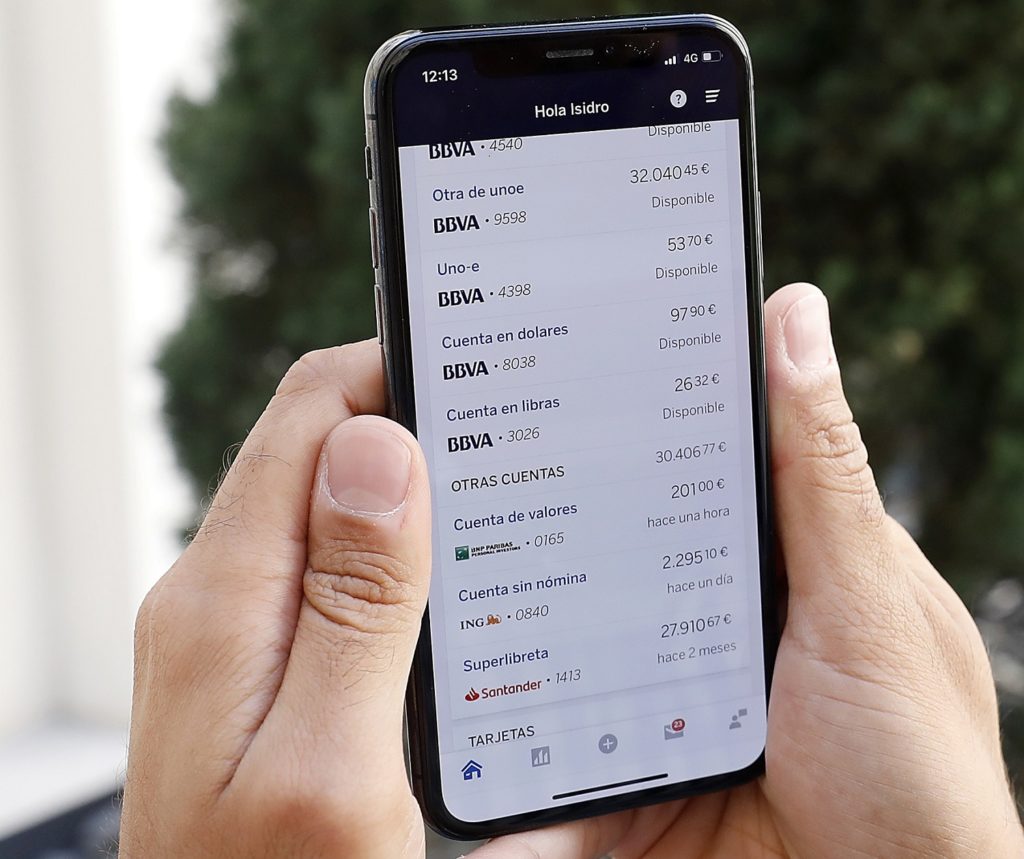 Regarding BBVA Bconomy, which measures a customer's income and expenses, the research firm noted that it provides "customers with a picture of their financial health and generates a personalized action plan to help them improve their financial well-being over time." Bconomy  is used every month by almost half of the bank's digital customer base.
The report says that BBVA is one of two banks that "make it easy for prospects to open an account via the mobile app". BBVA was the first financial institution in Spain to launch this feature in 2016, known as 'Online Onboarding' via mobile, which allows anyone to open an account in just a few minutes through a selfie.
Finally, the report also says that the BBVA app offers a smart search engine, and is one of the banks that provide a persistent icon to reach help and FAQs that are tailored to the task, as well as a way to reach human help if required.
Garanti Bank is also a leader in mobile banking
Garanti, the Turkish bank where BBVA has a stake of 49.85%, tooks the second spot in global mobile banking, according to Forrester Research. The Turkish bank is effective across the board, standing out in particular in money movement. The bank lets customers perform a wide range of money transfers and payments. In addition, most of these transactions can be carried out using the app's virtual voice-activated assistant, UGI (formerly known as MIA).
The Turkish app helps customers quickly complete account service tasks such as temporarily locking a card, managing card withdrawal limits, setting up and managing alerts, disputing a transaction and reporting fraud.