They're always popular with users of Android mobiles and they're a fixture on any smartphone. Weather applications allow you to be always informed, in real time, about the meteorological conditions at a given place. Some of these apps are free, others have a cost; some are well known and others are just making a name for themselves in the market.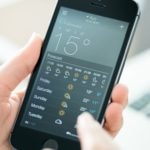 Should I wear a jacket, a sweater, or go out in shirtsleeves? This question occurs to us daily when we're getting dressed. But behind the question of what to wear is another one: "What's the weather like?" Thanks to technology, you can always have an immediate answer in the palm of your hand.
You only need use of the many apps that offer this information in the most complete and updated fashion. It´s like having a weatherman at your disposal. And it´s especially important these days, when nature can change anyone's plans unexpectedly.
Here are some of the leading weather apps:
Today Weather uses a clear interface and beautiful images to show the weather in any part of the world. The data can be seen clearly and the app even allows the user to choose from among the three sources it uses to compile its reports. It shows thermal sensation, humidity, visibility and air pressure, along with the essential data: the weather for the next 24 hours and the next week.
This app, designed exclusively for Spain, is very useful if you want to travel within the national territory. It shows in detail what the weather will be like in a specific municipality (more than 8,000 are included), over a two-day period. Particularly useful is the "avisos" (warnings) part, which tells you three days in advance about changes in the weather, or beach conditions on the Spanish coasts. The drawback is that you can't find the weather for any city outside Spain.
Used widely around the world, even though it is among those apps that consume the most resources, The Weather Channel is able to provide forecasts for up to 15 days. This is an important time period when planning a trip to anywhere in the world. Although it does include advertisements, the Weather Channel has such an extensive database that it has become a benchmark for applications of this type.
The weather forecast on Google Now
This app comes included with Google Now, so it consumes very little battery and scant resources on a mobile phone. Although it hasn´t got much to boast about as regards information, the app does provide exactly what you need to know. Also, it can be placed on a desktop as a direct access.
A total of 180,000 weather stations around the world provide the data that go into this application, which is very accurate in its forecasts for specific places. Weather Underground doesn't make a very attractive presentation of its data, but it has everything necessary to offer specific information. As an added attraction, it offers access to cameras placed in big cities and alerts about significant changes in the weather.
"Our brand is accuracy in weather." That's how this app is presented in the Google Store. It´s been around since 1962 and has seen a lot of weather since then. Of special interest is its tool MinuteCast, which supplies up to the minute information, for the next two hours, about locations that can be selected by the user or detected by GPS. This function is available in 20 countries (including Spain and Mexico) and centers on precipitation (the time it will begin and end, the intensity) that will affect a specific area. There's a free version with advertising and a paid one without ads, which costs 3.29 euros. Also, it can be placed at the bottom of the home screen.
With this app, it's possible to consult the weather forecast of the world's principal urban centers for the next two weeks. Using geolocation, it can even show the weather on a specific street. Morecast also provides up to the minute information about precipitation and has a sort of social network on which its users can post photos of different weather phenomena
Tiempo Ahora – Weather Now – offers a forecast in which images are very important. Its widget, which contains 3D images and spectacular photography, seeks to capture users who give a lot importance to the visual aspect of an app. The map of the world on its home page is a good example. Weather Now offers forecasts for more than 100,000 cities, providing data such as air quality or geomagnetism in the area.
The aesthetic factor is the attraction of this application, which shows information on cards that show the time of sunrise and of moonrise, a rain map and even the current phase of the moon. It also allows users to send the state of the weather.
A well-received application, which has gotten excellent reviews, Klara offers a complete desktop widget and an interface that is easy to take in at a glance. Also, with Klara it´s possible to know the weather for the next 10 days, on a single screen and in chronological order. It´s free, has no advertising and allows you to establish favorite locations.