Integration with third parties opens a wide range of possibilities and businesses for emerging companies.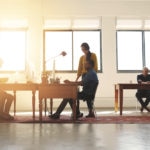 Ninety-seven percent of emails go straight to your computer's trash. Large companies have become aware of this fact and are starting to build a mobile presence because they know customers are on their phone all day. How can companies reach the cell phones of their customers? How can they obtain better knowledge of their customers' profile? How can you locate a customer when he or she enters a store to, for example, send him or her a discount voucher?
Faced with the challenge of gaining in-depth knowledge of their customers or of locating them in real time (on their cell phone or any other devices), APIs are playing a very important role by allowing startups to integrate with third parties. "APIs help to accelerate any development, any integration and enable users to access services much more quickly," stressed the CEO of Fidiliti, José Luis García, during the event on startups and APIs organized by CloudAppi. García stated that APIs "offer companies flexibility adapted to their needs."
Another participant, Jordi Pérez (CEO of Unnax), pointed out that "the reason why companies use APIs is because they want to improve their customers' experience." He added that, in the fintech sector, APIs "make it possible to capture money in real time." Nacho Ormeño, CEO of Startupxplore, gave a very clear example of their impact: "During an investment round, we were able to raise 300,000 euros in five hours. We managed in a few hours what used to take us four months to accomplish, and we did it by developing a platform integrated with several APIs to expedite the entire process."
Alberto González, Product Owner of BBVA API Market remarked that it is "hard to find a sector where the impact of APIs has not been felt." He also listed the products developed by the bank:
BBVA Connect for the purpose of Know Your Customer;
Customers improves engagement;
Cards is based on credit card information of users that have given their permission to gather this data;
Loans enables you to determine whether customers have a pre-granted loan with BBVA and its conditions;
Notifications sends real-time notifications of operations by pre-authorized users at BBVA;
Payments enables apps from third parties to offer transfers to pre-authorized users;
Accounts enables pre-authorized users to access the main data of an account;
PayStats displays aggregate and anonymized data on all cards and adds value to business intelligence.
Are you interested in finantial APIs? Discover all BBVA offers.