BBVA, first bank in Spain to incorporate Bizum digital identification for online commerce and services
BBVA has become the first bank in Spain to make registration and login available to its customers at online retailers and service providers through a new Bizum service. This new way of operating online allows customers to streamline the processes related to registration and access to their personal accounts in companies, businesses, or digital providers. Consequently, it eliminates the need to enter data -such as email or passwords- and allows the entire process to be carried out by simply providing the telephone number associated with Bizum. Since BBVA integrated the Bizum service in 2016, more than four million of its customers use this solution daily to pay.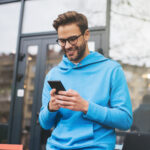 This new Bizum feature is an additional service to the available functions of this service for instant payments. This option aims to make interactions with e-merchants simpler, more agile, and secure, given that, among other things, it minimizes the information shared with third parties, allows the management of data transfer consents, and facilitates the association with the payment with Bizum in these merchants.
As of May 10, all BBVA customers who have the Bizum service available will be able to enjoy this new tool in online stores and suppliers that offer this possibility without having to make any prior arrangements. In addition to allowing a much more dynamic registration and access process at online stores, the function gives the user greater control over the management of their data.
Upon accessing the merchant or the online platform, the customer must select the option to "identify or register with Bizum." Once this option has been selected (only the telephone number is requested), the user receives an instant notification from their BBVA 'app' to confirm whether they really want to register. This adds a security factor to the entire process, as only previously authorized data that is strictly necessary for the use of the service will be used, with no need to share additional information.
From the BBVA app, the customer will also be able to view at which stores or apps the registration or login has been made at all times, providing the ability to manage permissions on their personal information, thus maintaining total control over their privacy. Likewise, the customer will be able to consult all the sites accessed through this service and revoke them if necessary.
The financial institution will also help all online merchants that are customers to integrate this solution into their websites or applications, so that they can incorporate the latest digital payment innovations and contribute to boosting business. One of the main advantages for merchants and suppliers lies in the increase of sales through digital channels, all thanks to the streamlining of processes for the user, which improves the shopping experience as a whole. Likewise, fraud possibilities are reduced as records are made with certified information and operating costs are cut by delegating these tasks to Bizum.
Bizum, the most used feature in the app's adaptation for young people
These new features join the opening and adaptation of the BBVA app for young people between 12 and 17 years of age in Spain. This new account, supervised by the legal representatives of minors, allows young people, in addition to making balance inquiries, topping up their cell phone or withdrawing cash at ATMs with their passwords without a card, to send money through Bizum.
Since the end of October 2022 and at the end of April, more than 40,000 young people have enabled the Bizum function in the app, both for sending money and paying in stores, with more than 200,000 transactions for an average amount of more than €20.
Currently, Bizum has more than 23 million registered users on this platform and the goal is to reach 25 by the end of 2023. In 2022, payment through Bizum was one of the preferred methods by users to make online purchases, registering more than one million transactions with an amount exceeding €47 million.