BBVA and Indra deliver the world's first blockchain-supported corporate loan
BBVA has successfully completed the first global corporate loan transaction using blockchain technology from the negotiation of the deal to its signing, in line with their close collaboration to leverage cutting-edge technologies to streamline business processes.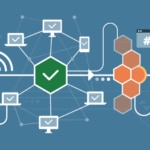 The pilot enabled the closing of a €75 million loan using a solution developed by BBVA based on distributed ledger technology (DLT). This demonstrates how BBVA continues to incorporate innovative and disruptive technology into its customer solutions, including those products that up to now have seen limited digital innovation, as is the case with wholesale finance.
As for Indra, the project strengthens its blockchain expertise, in this case applied to corporate financing, in line with its successful track record of blockchain implementations in real-life scenarios, and with its leading position as provider of digital-transformation products and solutions to companies and institutions, through its Minsait business unit.
The current process of contracting corporate loans is long and complex with various interactions between the bank and client, with numerous time-intensive iterations and reviews needed. This pilot addressed the complete process from negotiation up to the signing of the loan. This is an example of how BBVA is incorporating the opportunities presented by blockchain technology to arm its key products with greater agility and transparency.
Blockchain technology can make important improvements to this process as is demonstrated by this pilot. On one hand, DLT technology guarantees transparency and traceability of the contracting process: both Indra and BBVA were able to independently consult the status of the transaction at every stage thanks to blockchain's traceability feature. Additionally, the solution also digitized the negotiation process, which improved the management time, reducing it from days to hours.
Internal solution
The innovation represented by this pilot lies not only in the product for which it was developed (corporate loans) but also in the different blockchain platforms used. The negotiation process and completion of conditions between BBVA and Indra was developed on an internal solution built on private blockchain technology (Hyperledger).
Once the contract was agreed, Ethereum's public blockchain (testnet) was used to register the hash or unique identifier related to the transaction's documentation. This is how blockchain guarantees the "immutability" of the agreed contract, as any amendment in the agreed document would lead to a completely different hash.
This pilot represents a significant advance in the exploitation of DLT technology, combining public and private environments. "BBVA is involving its clients in project processes such as requirements definition, development, and implementation. In this way, BBVA provides its customers with not only the best financial solutions, but also the most advanced technical and innovative capabilities," said Ricardo Laiseca, BBVA's Head of Global Finance for Corporate and Investment Banking.
"Indra is at the vanguard when it comes to creating applications based on blockchain, which is destined to become one of the technologies that will change the way we interact with products and financial services. This pilot served as an opportunity to take part in the first corporate loan operation based on blockchain technology in the world. The operation  strengthens the position of BBVA and Indra as leaders in the practical application of blockchain technologies." said Borja Ochoa, Director of Financial Services at Indra
This project, which is part of the BBVA Group's wider digital transformation strategy, sought to test the capabilities of this emerging technology with the aim of simplifying processes and reducing execution times associated with corporate loan activities thus improving customer experience.
BBVA's Global Head of Customer Solutions, Derek White, said: "BBVA's digital transformation continues to gather pace and reach into new areas, and this is a prime example of where disruptive technology can add real value to business processes. The use of blockchain in this transaction has greatly increased transparency and speed, while equally improving efficiency - it's a win win for both us and Indra."
BBVA is developing different blockchain initiatives related to international payments, international trade, and foreign exchange transactions.
Additionally, BBVA and Indra participate in the main international consortia that are looking to create standards such as R3, Hyperledger, Enterprise Ethereum Alliance and Spain's Alastria.
Indra, through its digital transformation business unit, Minsait, has developed different projects focusing on the implementation of blockchain-based products and solutions across a number of industries, including the financial, insurance or retail sectors. This strengthens its portfolio of skills to ensure success in digital environments.
About Indra
Indra is one of the world's top consulting and technology companies and a technology partner for the key operations of its customers' businesses worldwide.  It is a leading worldwide provider of proprietary solutions in niche areas in Transport and Defense Markets and the absolute leader in IT in Spain and Latin America. It offers a comprehensive range of proprietary solutions and cutting edge services with a high added value in technology based on a unique culture of reliability, flexibility and adaptability to the needs of its customers. Indra is a world leader in the development of end-to-end technology solutions in fields such as Defense and Security, Transport and Traffic, Energy and Industry, Telecommunications and Media, Financial Services, Electoral Processes, and Public Administrations and Healthcare, Through its Minsait unit, it addresses the challenges of digital transformation. In 2016 Indra posted revenue of €2,709m, employed 34,000 professionals, and had a local presence in 46 countries plus sales operations in more than 140 countries.