BBVA invests $50 million in Kai-Fu Lee's Al investment fund Sinovation Fund IV
BBVA to invest $50 million into Sinovation Fund IV, a Chinese venture capital fund run by Sinovation Ventures and led by Dr. Kai-Fu Lee.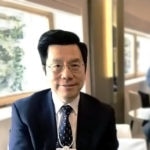 Dr. Kai-Fu Lee is the former president of Google China and one of the most recognized global experts in AI. The fund has about $500 million to invest in firms at the early stages in areas such as internet consumption, B2B, education but with a special focus on artificial intelligence (AI).
With AI-empowered-banking tools likely to be a key differentiator for customers in the future, as well as critical to providing colleagues with the information they need to deliver improved customer value, the investment will give BBVA insight and access to the growing Chinese innovation market, especially around AI.
Likewise, from a financial perspective, it will also give BBVA the opportunity to understand and potentially co-invest into Chinese AI technological startups, gaining exposure to the world's fastest growing tech market while targeting attractive returns on investment.
Commenting on the investment, BBVA´s Chief Executive Officer Carlos Torres Vila said: "By investing into the Sinovation Fund IV, we are ensuring we can learn from and build connections with some of the most promising AI solutions being built anywhere on the planet. Just as importantly, we can do it via a high-performing investment platform with a strong return profile."
Sinovation Ventures, the fund's management company, began operations in 2009 and currently manages six funds, with total assets under management over $1.7 billion. Its investments are mainly focused on China and with IRRs outpacing industry averages, the firm has already delivered six unicorns including Meitu, Mobike, VIPKid  and Face ++.
Chinese internet market
China has become one of the most active markets in the field of innovation and is the leading country in international patent applications. With more than 1 billion smartphone subscribers and an annual growth of 12% year-on-year, the country is also a leader in the implementation of technologies such as mobile payments.
The huge size of the Chinese internet market makes China a world leader in the generation of user data, which in turn has fed the fast-paced development of AI solutions in the market.
Local tech giants such as Alibaba and WeChat Tencent have grown to huge scales in a short period of time, riding a wave of innovation, consolidation and customer-focused services provision underpinned by technologies like AI and big data insight.
China has also invested heavily in programs to promote the development of AI solutions, including Government-backed programs and strong support from universities and the nation's tech companies.