BBVA Momentum completes its 2018 global edition with social entrepreneurs from the U.S., Mexico, Colombia and Turkey
On February 25th, BBVA's Open Space auditorium in Madrid was transformed into a meeting space with the best of the BBVA Momentum ecosystem. The global event completes the 2018 edition of BBVA Momentum, which united the year's most promising entrepreneurs from Colombia, the U.S., Mexico and Turkey. The entrepreneurs presented their projects and growth plans, and sector experts discussed current issues in the social investment field.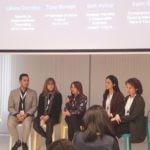 The entrepreneurs' day started off with a series of educational workshops rive on a wide range of topics, such as using big data for social good, connecting empathy with technology, and breaking the ice when giving a presentation. In the afternoon, they put what they had learned to the test, and had to engage the audience as they explained their projects, which stood out for their innovation and growth potential.
Different countries, different challenges
The event began with the Global Head of BBVA Momentum, María Erquiaga, welcoming the participants. She explained the program milestones and introduced the country coordinators in Colombia, the U.S, Mexico and Turkey:  "The program would not be possible without them."
 Irma Acosta, Director of Corporate Responsibility and Reputation at BBVA Mexico; Liliana Corrales, Corporate Responsibility Manager at BBVA Colombia; Tony Moraga, VP Manager of Social Impact at BBVA USA; Ipek Aybay, Strategic Planning & Responsible Business at Garanti in Turkey; and Selin Öz, Entrepreneurship Banking Manager at Garanti in Turkey took the stage to explain the status of social entrepreneurship in their countries and the challenges they face.There is a wide range of cultural and social diversity in the geographic locations where BBVA Momentum is active, and each local edition presents its own unique set of challenges. From the need for companies to remain, as Liliana Corrales indicated, to the challenge Tony Moraga shared of disseminating the program and introducing it to entrepreneurs.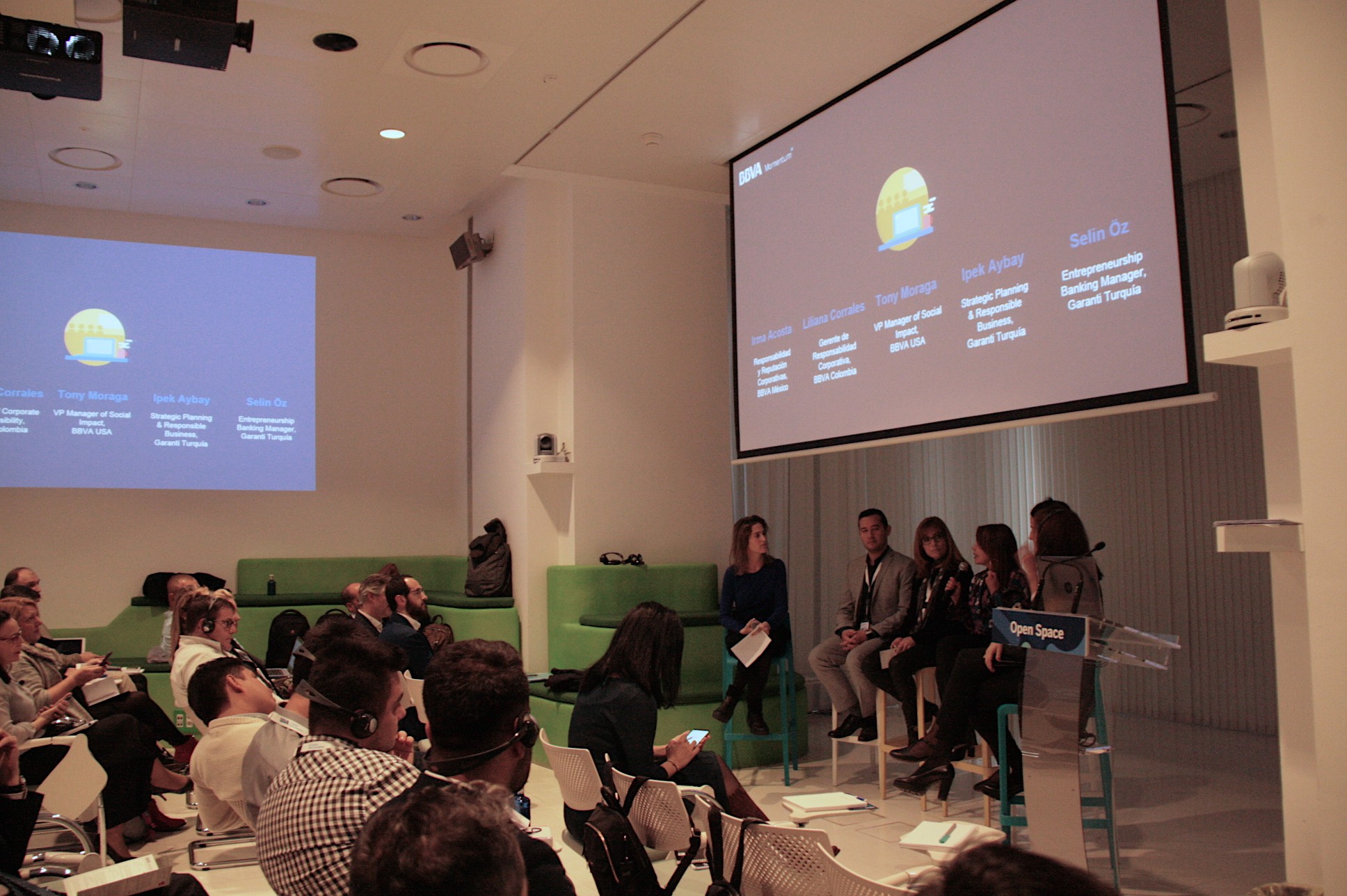 The country coordinators in Colombia, the U.S, Mexico and Turkey talked about the challenges of social entrepreneurship.
La diversidad cultural y social de las zonas geográficas en las que BBVA Momentum tiene su actividad es grande y cada edición local tiene sus propios desafíos. Desde la necesidad de que las empresas se mantengan, como señaló Liliana Corrales, hasta el reto, que expresó Tony Moraga, de difundir el programa y acercarlo a los actores del emprendimiento.
Las intervenciones de los responsables locales de BBVA Momentum, sirvieron para contextualizar las presentaciones de los emprendedores convocados y comprobar, de primera mano, el enorme mérito que tiene su labor. Todos ellos fueron capaces de resumir, de forma efectiva y muy dinámica, sus proyectos y, a la vez, transmitir a los asistentes toda la pasión y las ganas de seguir avanzando que siempre caracteriza a los emprendedores de BBVA Momentum.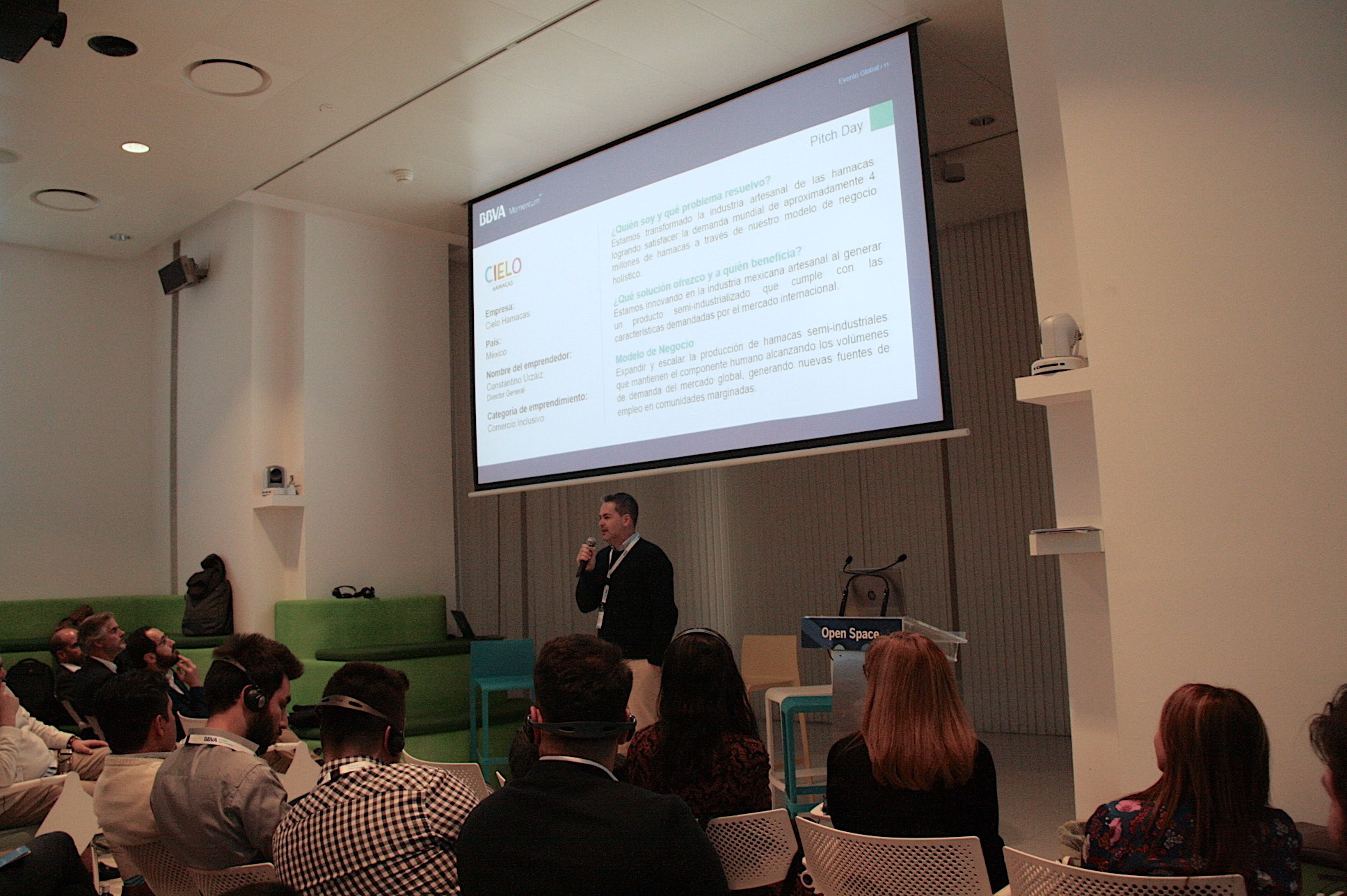 The entrepreneurs explained how their projects were born, the impact they are achieving and their growth plans.
Growth in social investment
After the round of presentations concluded, BBVA's Director of Community Investment Programs, Lidia del Pozo, introduced the round table discussion with a group of social investment experts: Alejandro Álvarez, co-founder of International Venture Philanthropy Center; Alberto Estévez, Vice President of Balanced Funds & SRI en BBVA; Rachida Justo; Academic Chair and Associate Professor in the Entrepreneurship Department at the IE Business School ; José Moncada, Founder and Director General of La Bolsa Social and Manuel Uriarte, Director of the Social Impact Bonds Area at CREAS.
These experts shared their vision of social investment with the audience, as well as how it has evolved in recent years. They also discussed the enormous amount of financial instrumentsthat have emerged and the importance of transmitting to social entrepreneurs all the possibilities that are now accessible to them. "When I started, social investment was all based on microfinance," explained Rachida Justo. "We have now moved on to options like 'venture philanthropy ,' which supports entrepreneurs and opens the door to training and more investment, like BBVA Momentum does."  Similarly, Alejandro Álvarez noted: "In order to resolve all the social and environmental problems, all types of capital, risk profiles and instruments are needed."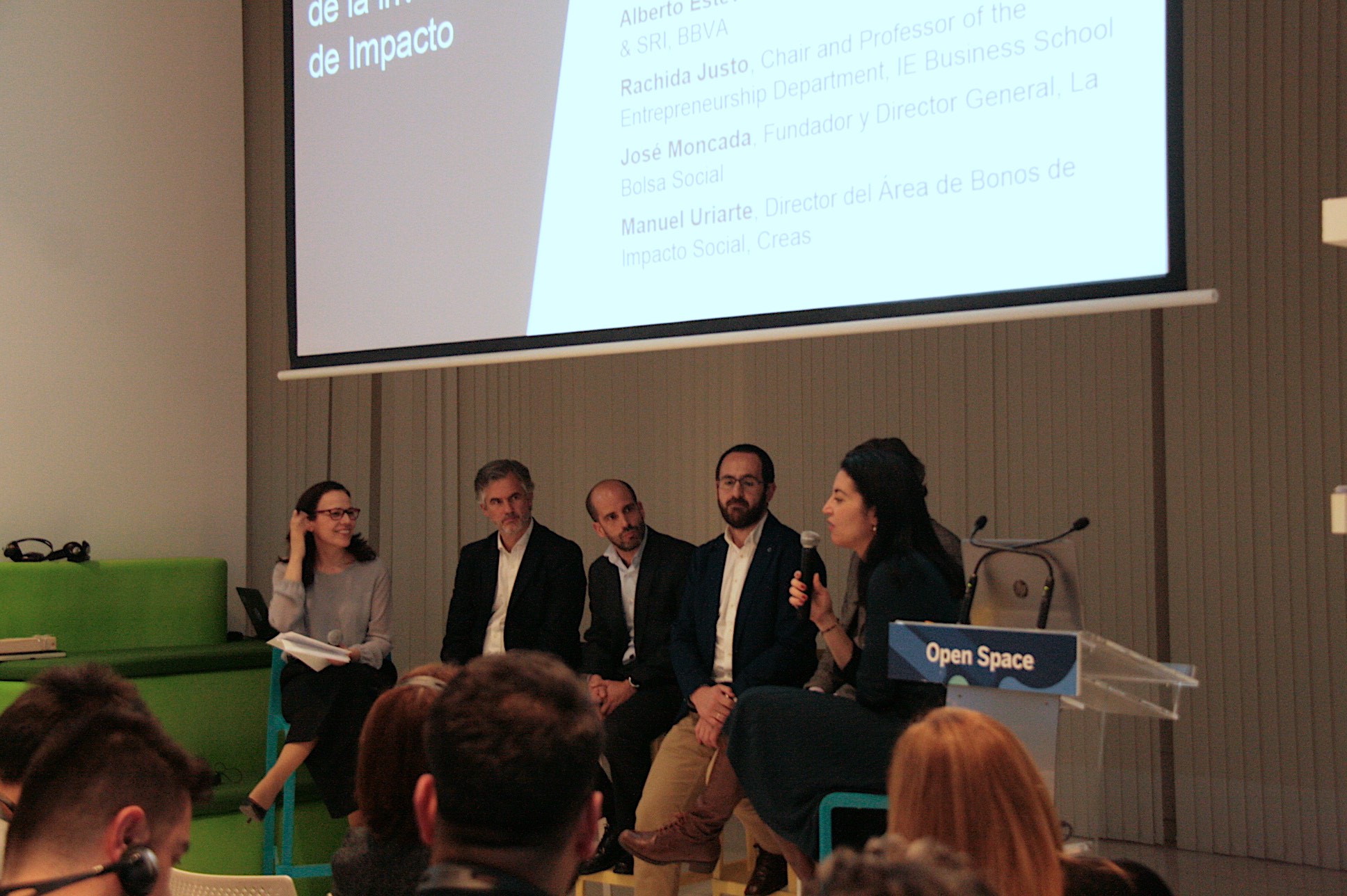 A group of experts in social investment analyzed the current panorama of the sector and the instruments that entrepreneurs can use.
However, an instrument alone is not enough. "It's not just about money. It's about creating communities who believe in the social and environmental mission," maintained José Moncada when explaining how La Bolsa Social works. "It's an online tool to unite investments from lots of people in a transparent, democratic, highly participatory way," Manuel Uriate said. Social impact bonds are another vehicle: "They are more like social impact contracts," explained Manuel Uriarte. "We maintain that the return and recovery of capital are tied to impact. Without it there's no profit."
This type of investment is progressing, but it is still surrounded by some prejudice: "People always say that it isn't profitable, and this resistance is the first thing that must be overcome," Alberto Estévez argued. "There is academic evidence showing that it is. Money also has the power to have a positive impact."Fortunately, guidelines have emerged that provide direction for operations of this kind: "We now have the Sustainable Development Goals when investing. They aren't made for this purpose, but they do serve as a framework to explain to investors."Little by little, social investment plans are starting to appear among the biggest players in the sector who are interested in complying with social, environmental and corporate governance criteria. Social entrepreneurs now have increasingly diverse and encouraging set of options to choose from. Sustainability is currently paramount: "Anyone who isn't working toward this end won't have a place."
BBVA Momentum 2018 ended on a high note for its entrepreneurs, and the team was very pleased to have helped them along in their journey to growth. However, the BBVA Momentum program does not end there. The team is already gearing up for the next edition. The 2019 edition will mean more talent, more challenges and more innovative projects seeking to have a greater impact. BBVA Momentum will be waiting for them.