BBVA Momentum brings together the best global entrepreneurs of 2018 in Madrid
BBVA Momentum, BBVA's social entrepreneurship support program, will host a global event to showcase the brightest projects of its 2018 edition. These companies, from Colombia, the United States, Mexico and Turkey, have come up with innovative ways to tackle some of today's most pressing social and environmental challenges.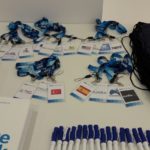 February 25 will be a very special date for the entrepreneurs that took part in BBVA Momentum 2018. That day, representatives from the brightest entrants in last year's edition, will explain their growth plans during an event taking place in Madrid.  It will be the crowning moment to five months of intensive training and teamwork to accelerate their projects and scale up their business models.
The meeting will take place at BBVA Open Space Madrid and will bring together the most brilliant social entrepreneurs that the program has been supporting since it launched back in 2011.  The presentations will take place before an audience made up by potential investors (companies and social organizations, investment funds, business angels and BBVA clients), as well as industry experts, mentors and the BBVA Momentum team.
At 6:00 p.m. María Erquiaga, global responsible of BBVA Momentum, will kick-off the event introducing the local BBVA Momentum coordinators in the countries taking part in the program's latest edition: Irma Acosta, Head of Corporate Responsibility and Reputation at BBVA Mexico; Liliana Corrales, Head of Corporate Responsibility at BBVA Colombia; Tony Moraga, VP, Manager of Social Impact, BBVA USA; Ipek Aybay, Strategic Planning & Responsible Business at Garanti in Turkey and Selin Öz, Entrepreneurship Banking Manager at Garanti  will share with the audience their experiences leading BBVA Momentum, and will discuss the impact that the program is having and the challenges entrepreneurs face in their countries, among other issues.
Next, the most promising social projects that took part in BBVA Momentum 2018 -  coming from Mexico, the United States, Colombia and Turkey - will take the stage to share with the audience the ins and outs of the growth plans they have been working on for the past few months.  The selected companies are:
 Bir Yudum Kitap (Turkey): Bir Yudum Kitap is a subscription service that aims to become the "Netflix of books".  The company's service subscribers receive a box with a selection of books tailored exclusively for them every month.
Cielo Hammocks (Mexico): Cielo Hammocks is a social organization that seeks to alleviate poverty and promote gender equality by manufacturing and selling hammocks across the world.
Experiencias (Colombia): offers high-quality/low-cost educational, cultural, interactive and travelling experiences for people from small or remote municipalities.
Mevet (Colombia): Mevet offers dignified job opportunities to female inmates to help them transition into and resume their normal lives once they serve their sentences.
Skratch (USA): Skratch's mobile app allows teenagers earn money by taking paid gig jobs in their community. 
Surdoz (Colombia): Surdoz is a child stimulation, physical therapy and speech therapy center, managed by a specialized team.
Cesmach Café (Mexico): This fair trade cooperative markets the production of 632 coffee farmers. 
Engelsiz Çeviri (Turkey): The technology that this company develops enables people with hearing disabilities to communicate and overcome the barriers hindering their access to education and to entrepreneurship opportunities.
Hábvita (Mexico): This startup's innovative solution allows people that own a plot of land build their own, and safe, home. 
On The Road Lending (USA): This lender offers affordable loans to help its clients buy sustainable and fuel-efficient cars. 
Pathlight Home (USA): This social enterprise has created a training program for people with problems getting a job and offers permanent supportive housing and opportunities to the homeless.
Tolkido (Turkey): This company manufactures personalized flash cards to help children with autism or communication problems interact with their families.
At the end of the presentations, Lidia del Pozo, Director of BBVA Community Investment Programs, will host a round table that will discuss the impact of investments on this kind of projects.  The panel will consist of Alejandro Álvarez, co-founder of International Venture Philanthropy Center; Alberto Estevez, vice-president of Balanced Funds & SRI en BBVA; Rachida Justo; president and professor at Entrepreneurship Department, IE Business School; José Moncada, founder and CEO of La Bolsa Social and Manuel Uriarte, Head of Social Impact Bond Area, CREAS. This panel will discuss the latest developments related to social investments, as well as to where it stands now, the least known and the more successful social investment tools and how can social entrepreneurs benefit from them.
At the end of the round table, attendees will be invited to enjoy a cocktail to share their insights and network with the program's entrepreneurs.
To attend BBVA Momentum 2018's closing event, please register here.