The bank has signed a collaboration agreement with the Legendaryum Metaverse to explore how immersive digital environments could change the remote relationship model both between internal areas and with customers. BBVA has opened a remote meeting room in Legendaryum to analyze the potential of these spaces and how they change the way users relate to each other and help in the design of specific banking services.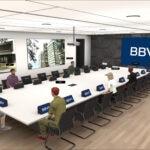 The potential of the metaverse as a future relationship space for companies and their customers generates great unknowns and expectations. Before promoting new relationship models or specific products for these channels, BBVA has set out to experiment with them in a controlled manner. "We need to understand the capabilities of these technologies, their possible technical limitations, risks and opportunities, and how to enhance the security and protection of users," explains Iván Moreno, from BBVA's Strategy and Digital Assets area.
One of the first tests that the bank is conducting is the pilot of an immersive meeting room, created in partnership with Legendaryum whose platform is the first global metaverse developed with a hyper-realistic appearance and focused on social meetings, commercial stores and training and leisure spaces. "We need to test it firsthand and we have already held the first meetings and organized some remote training talks," says Iván Moreno. "Having this pilot space in a hyper-realistic scenario allows us to open up innovative ideas for applications or needs that, without having an environment in which to test them, would be difficult to anticipate. In this way, the business areas will be able to devise tools, capabilities and possibilities that will make these spaces truly differentiating."
To this end, Legendaryum has recreated in its immersive environment a virtual version of La Vela, BBVA's headquarters in Madrid, from which the Digital Assets team accesses the room in the metaverse.
"By seeing how our way of working in a metaverse changes, we could design products and services for the customer that take these new perceptions into account."
"We are aligned with BBVA in the vision and strategy for building a great technological future, where the metaverse is not a simple marketing action, but an important utility tool, which evolves our day-to-day both internally and for global customers," explains Ariel Burd, CEO and co-founder of Metaverse Legendaryum.
In addition to exploring the potential and limitations of the technology, the new virtual space also allows the BBVA team to analyze how people's perceptions and ways of interacting in these environments are changing. "Users have been interacting digitally for a long time through screens, buttons, drop-down lists, etc. In a way, they are already second nature to them and will need a period of adaptation to new forms of interaction," says Moreno. "By seeing how our own way of working changes in a metaverse, we could design products and services for the customer that take these new perceptions into account."
New formulas for virtual attendance
Entering into the agreement with Legendaryum is part of BBVA's strategy to explore emerging technologies that can provide new banking business models. Among the differentiating factors for the choice of this metaverse are its great technological and product advances, its scalability and the hyperrealism of its environments and avatars, which contributes to the virtual presence being remarkably similar to the real one. Its multi-device integration, a pioneer worldwide, allows users to interact with each other regardless of the device from which they connect: PC, cell phone, tablet, or virtual reality glasses. In addition, its web accessibility democratizes access for all users and eliminates a crucial technological barrier for corporate environments, as it does not require downloading third-party software.
This is not the first action in BBVA's strategy to explore these new formats. At the Meta World Congress held in Madrid in March 2023, the bank exhibited two NFT collections in the Legendaryum and Alvearium metaverses. Moreover, at the 10th edition of South Summit, the bank presented the BBVA Virtual Space in which, through VR glasses, users could visit a reproduction of La Vela and interact with a simulation of their financial information with the help of a manager.
This virtual space was the protagonist of one of the challenges posed during the BBVA Hackathon and provided a meeting point for employees during Christmas 2022, where they could interact and participate together in various collective activities. This was an initiative through which the Group wanted to reinforce the team feeling of its professionals, regardless of the physical distance.