BBVA CEO Onur Genç stated that "BBVA has a competitive advantage" in the context of digital acceleration resulting from the COVID-19 pandemic. "Digitization boosts our business," he said during his presentation at the 17th Banking Industry Meeting organized by IESE in Madrid. In March 2022, BBVA added 90,000 new customers in Spain - the largest monthly figures in its history. Over half (52.25 percent) of these customers reached the bank through digital channels.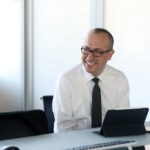 Onur Genç explained that the acceleration of digitization as a result of the COVID-19 pandemic has had major implications for the banking business. This trend has only further consolidated BBVA's strategy, a pioneer in its commitment to the digital world.
The bank's CEO summarized BBVA's digital journey in four interrelated phases. First, BBVA began with transaction banking, such as sending money from one account to another using digital channels. Second, the bank accelerated its digital sales. For example, in the first quarter of 2022, 70 percent of the bank's sales took place on digital channels. Then, BBVA reached the third phase of its digitization: increasing customer acquisition. The fourth step is to offer proactive and personalized advice to help customers make the best financial decisions. In this regard, there are currently over 11 million BBVA customers around the world who use the bank's digital tools for financial health.
Regarding recruitment of digital talent, Onur Genç spoke of the need to find people who cover the needs resulting from the digitization of the banking sector. In his opinion, while the supply of this type of profile has remained stable in Europe in Spain, demand has increased considerably across all industries. At this time, "We have 1,800 people working as data scientists at BBVA - something unique," he noted.
In relation to the new technologies that are transforming the financial sector - artificial intelligence, cloud computing, blockchain - the CEO explained that they are key so that "banks are relevant to customers through advice." Onur Genç indicated that in this environment of disruption, and even in the decentralized field of blockchain, banks have an advantage over other competitors: their customers' trust. Regarding 'bigtech', he added that their entrance into the banking sector has been slower than was expected several years ago, partly due to the complex regulations in the financial sector. From his perspective, it is difficult for both bigtech and fintech to replicate the model of a financial institution, although they can act as competition in certain segments of the banking business.
Sustainability is also a business opportunity
When it comes to sustainability, the other pillar of BBVA's growth strategy, Onur Genç recalled that: "We have to be proactive actors in this change." In his opinion, banks play a very relevant role in this transition, as guiding customers in the steps toward a more sustainable economy requires an enormous amount of financing and advice, and therefore also represents "a huge business opportunity." Onur Genç recalled that in 2021, BBVA doubled its commitment to channel up to €200 billion in sustainable finance. In his opinion, it is positive that regulators are creating incentives so that the green transition occurs in a natural manner.
Regarding the main challenges for the banking sector in the current context, he underscored that in the short-term, macroeconomic uncertainties related to the war in Ukraine remain. In the long-term, he stressed that recruiting talent is one of the challenges for the sector.