Swift Go completes low-value cross-border payments in less than three minutes
In 2021, seven banks, with BBVA as the only Spanish bank, participated in the launch of Swift Go. There are currently over 600 banks in 120 countries that offer this solution for low-value payments, streamlining the collection of payment for services to cross-border clients for SMEs, and making it easier for individuals to buy online in other countries. 85 percent of the payments made on this service are completed in three minutes or less.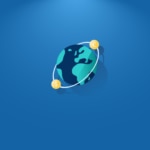 Traditionally, cross-border payments were complex, long and opaque processes for customers, involving  different banks, countries and time zones. This situation changed in 2017 when the Society for Worldwide Interbank Financial Telecommunication (Swift) launched Swift gpi, a solution that processes these payments more quickly, traces them from beginning to end and offers more information on their status. BBVA was one of the first ten banks in the world to join, and was a pioneer of its introduction in Spain, Mexico, Peru and Turkey. In 2021, this streamlining strategy took one step further with the launch of  Swift Go, which makes it possible to make low-value payments to another country more quickly, guaranteeing them in the destination and offering the payer total transparency regarding the processing, and prior information on the amount that will reach the payee.
This ability to know the exact cost of sending money in advance gives users more choice and allows banks to compete in the payment ecosystem. "Transparency will allow customers to compare the price, quality and deadlines of the different solutions available – a comparison that until now they could not make – and choose the one that best suits their needs," Raouf Soussi, Head of Strategy for Enterprise Payments at BBVA, explains in the Financial Times. "Knowing the exact costs upfront allows them to compare offers between different financial institutions and increases their choice capacity."
"Fees and FX applied are guaranteed, which introduces certainty for the payer and the recipient," Rosemary Stone, Swift's Chief Business Development Officer, tells the FT. "Whether it's a freelancer designing websites for companies around the world, or an expatriate sending money back home to support their family."
Easier, safer payments
In 2021, BBVA led the first pilot test of payments with UniCredit through Swift Go between Spain and Italy, which was successfully completed in a matter of seconds. The tool was launched that same year, initially involving seven banks: BBVA as the first Spanish institution to implement the service in Spain, and The Bank of New York Mellon, DNB, MYBank, UniCredit, SberBank, and Société Générale.
"BBVA is very excited to be one of the first banks to sign up to SWIFT Go," said Raouf Soussi at the time. "We recognize the potential of this solution to revolutionize the way SMEs and consumers move money around the world. We have listened closely to our customers and we know how much they value a secure service that ensures payments reach their destination quickly and seamlessly."
SWIFT Go is based on four key pillars:
Easy to use: Banks count on an experience that is simple and streamlined, with data requirements known upfront.
Faster payments: The banks make strict agreements on payment processing times. Key transaction information is pre-validated based on data drawn from billions of transactional messages in the Swift network, thus reducing friction points in the payment process and making it smoother and more agile.
Competitive prices: Processing fees are agreed between financial institutions upfront so they can provide their customers with full transparency; increased straight-through further reduces processing costs.
Security: Senders and receivers have peace of mind that payments are underpinned by the strong security of the SWIFT network.