BBVA has announced the creation of BBVA Technology, a new company that is to gather the experience and talent of the Group's three tech firms: BBVA Next Technologies, BBVA IT España, and Datio. The new company will have a more strategic focus while offering more career development opportunities for the bank's tech teams.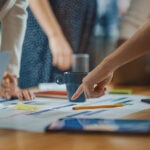 With offices in Madrid, Barcelona and Bilbao, BBVA Technology will start operations next year with some 3,000 employees from the three previous BBVA firms. Current CEO Ricardo Jurado will be CEO of the new company once the integration process has concluded.
BBVA Technology's main focus will be on software development transformation, one of the strategic priorities of BBVA Engineering for the coming years.
The new company will consolidate the teams' technical expertise, with access to new career development opportunities and professional growth, while concentrating the company's processes into a single model. In fact, the evolution towards a single brand intends to foster the attraction of new talent and the creation of a new value proposition, aiming to reinforce satisfaction and loyalty of current teams.