Mobility, health, commerce...everything is connected in cities. Thanks to digitalization and big data, now it is possible to combine all of these aspects, opening the door for better urban planning.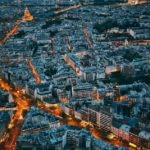 Technology provides a new outlook for the work of urban planners and architects, providing them with the best tools for performing their jobs. Hosted by the Norman Foster Foundation, several top-level professionals from around the world, led by the British architect himself, met in Madrid to debate this phenomenon, based on a "holistic focus": mobility, urban planning, architecture, sustainability, consumption...which come together to design the cities of the future.
"You must have a cohesive vision," said the architect and urban planner Tim Stonnor, managing director of the consultancy Space Syntax, "based on the need to respond to all changes caused by digitalization." "Technology is an enormous engine of transformation," he explained, "and it creates new challenges, but at the same time, provides the tools to solve them."
Stonnor provided an example for clarification, "thanks to technology, people's movements and in which areas there may be more loneliness and social isolation is better understood. Not just that, they can also detect the niches of the most sedentary population, which very likely will need more attention from the public health systems. In the city, everything is connected.
Big data is the key to designing better mobility policies, increasingly dedicated to pedestrians. According to Tilly Chang, executive director at San Francisco County Transportation Authority, the body responsible for mobility planning in the Californian city and its surroundings, "the key is to move people, not vehicles". Stonnor shares this viewpoint, and thinks the door is being opened to design a new mobility that "recovers parts of the city that were lost decades ago due to the development of motorized transportation."
However, the availability of all types of data not only represents an opportunity for designing mobility policies; there is also enormous potential with regard to the commerce and economic development of cities, which is the line of work of Urban Discovery, an initiative of BBVA Data & Analytics which studies anonymous data from transactions carried out with bank cards.
Its objective is to detect patterns of economic behavior that help to redesign the cities beyond the traditional administrative limits. It has already applied its model of urban intelligence in Madrid, Barcelona and Mexico City, and has identified new functional and socially dynamic areas along the way.
In fact, knowing how many people, when and where they make financial transactions is highly valuable information beyond the business context or related to commerce. Ultimately, financial movements represent the movement of people in space and time, and indicate the evolution of their relationship with entities, businesses and people in a certain geographic context.
Along these lines, and through a research project along with UN Global Pulse, BBVA Data & Analytics studied how this data allows analyzing a population's capacity to recover economically after a natural catastrophe. The project, which studied the economic impact of Hurricane Odile on the Mexican state of Baja California Sur in 2016, showed that people spent 50% more than normal on products like food and gasoline to prepare for the hurricane. It also showed that women spent twice as much as men on the days before the hurricane touched the ground.
Present and future opportunities
The American architect Alfredo Brillembourg, founder of Urban Think Tank, focused a significant part of his participation in the debate—titled "Urban Mobility", though many topics were discussed—on the role that urban planning should have in the less developed areas of the world.
Speaking to an audience mainly dominated by architecture students, he urged them to look for innovative solutions to cover basic needs. "In the next 30 years, 2 billion people will be born, and most will be in slums without basic services," he emphasized. Data can also make a difference here in terms of planning.
"Technology," affirmed Brillembourg, "will also be a tool to solve the most pressing needs of these cities," though according to Carlo Ratti, director of MIT Senseable City Lab, "better than thinking about the future, we need to get started now on transforming the present."