This week, Carlos Torres Vila attended the annual meetings of the International Monetary Fund (IMF), the World Bank and the Institute of International Finance (IIF) in Washington. BBVA's Group executive chairman participated in a panel discussion on banking in the digital age, where he stated that: "Technology is a very powerful lever for financial inclusion. It allows us to reach people we never could before."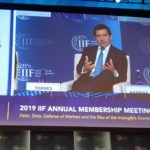 A large delegation from BBVA, led by Carlos Torres Vila, participated in the IMF and World Bank's annual meeting in Washington. This meeting is considered the most important economic event of the year where central bankers, finance ministers, private sector executives and academic scholars come together to discuss issues of global concern and economic outlooks.
Carlos Torres Vila also attended the IIF Annual Members Meeting, where he shared a panel with Piyush Gupta, the CEO of the DBS Group, and Kati Suominen, the CEO of the Nextrade Group. During his presentation, BBVA's Group executive chairman explained that the group's purpose is "to bring the age of opportunity to everyone", and that thanks to technology, BBVA can now reach people it never could before.
BBVA works in the financial inclusion field in countries like Mexico, Colombia, Peru and Argentina, as well as through the work of its Microfinance Foundation. Over the past 12 years, the Microfinance Foundation has helped five million people by granting microloans.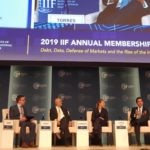 Carlso Torres Vila at the IIF Annual Meeting.
The data revolution
Asked about the criticality of data in banking, Carlos Torres Vila first explained that: "Data are a relevant asset for banking as they are used  to make all decisions in the value chain." In addition, he noted that we are facing a data revolution that is having an enormous impact on all industries. Data also allow banks to solve a deep-rooted problem people have related to money:  to make better financial decision. For example, he mentioned the classification of transaction or a preview of predicted account activity as some of the tools that he feels led BBVA to be recognized by Forrester as having the world's best banking app for the third year in a row.
Torres Vila indicated that companies currently keep the data they collect in silos with the belief that the data are their property. "But really, data belong to the customers. Recognizing this implies that data can only be used with their consent, but if I give my consent my data can also go to other providers." In his opinion, data should be shared using direct, secure, standardized communication in real time. "Data are a huge source of growing competition, of the best services and of greater value," he explained.
The role of lawmakers
BBVA's Group executive chairman stressed that in addition to data privacy, there is concern over a small group of digital platforms that hoard their customers' data, even though these platforms cannot extract value from their own data. In this regard, Carlos Torres Vila advocated for legislation to address this imbalance, giving users back the control over their data.
In his opinion, it is crucial to move toward cross-cutting regulation that allows data to flow. Lawmakers should promote regulations that make it easier for users to share their data among sectors in a simple and secure manner. All of this "would foster innovation by allowing access to their data, and would benefit consumers." At the same time, Torres Vila called for digital legislation that is coordinated and standardized on an international level in order to avoid the differences that exist among jurisdictions. One way to start working toward this end would be to create a G20 working group specifically dedicated to addressing this, for example.
José Manuel González-Páramo, the Head of Global Economics and Public Affairs at BBVA, also participated in the panel discussion on the future of the European Union following the European Parliament elections and Brexit at the IIF Annual Members Meeting. BBVA's Head of Data Strategy, Álvaro Martín, also took part in a panel on the financial value of data and their monetization.