David Puente (BBVA): "The sky's the limit for BBVA's transformation"
Accenture and The New York Times have devoted the latest episode of their 'Built For Change' podcast to BBVA's ongoing transformation. David Puente, global head of Client Solutions, describes a process that has been hugely successful for the BBVA app, but which is still far from over. The next big impact: artificial intelligence.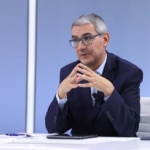 BBVA has become a case study of how a bank with more than 165 years of history has successfully embraced digitalization by daring to change the way we work and the strategy of an entire organization. This transformation process dates back to 2008, right in the midst of the financial crisis, when BBVA found it all but impossible to grow while following a traditional banking model. "Growing, and growing profitably, in that environment was a real problem. We had to grow, yet we simply couldn't with the model that we had," recalls Puente.
BBVA soon realized that it would need to reinvent its approach to banking services by transforming itself into a digital company. It had to reinvent processes, strategies and even its culture, explain the hosts of the podcast. The first step was to invest in its mobile app and before long, it had managed to create a genuinely differential experience that exceeded all expectations. "We grew much more than what we were used to, while at the same time providing a better experience. It was like discovering a gold mine," proclaims the global head of Client Solutions.
Some major changes took place behind the scenes to make BBVA's app such a success, from training employees in new digital skills to implementing a new, more efficient and agile way of working, in which engineering, business, risk, marketing and other areas worked in unison to break down silos. Within just a few years, a global mobile platform was consolidated so that developments of new functionalities could be shared between countries and codes and designs reused. This further accelerated the transformation process across all BBVA subsidiaries.
The result is that "BBVA now has more than twice as many new customers as it had five years ago", remarks the head of Client Solutions. More precisely, in the first nine months of 2023, BBVA gained 8.3 million new customers, 65% of whom joined the bank via digital channels. Moreover, 78% of the Group's sales are now digital.
However, this transformation is a never-ending process of continuous learning and improvement. The next big challenge? David Puente is adamant that artificial intelligence is sure to have a transformative impact on the business. On the customer side of things, BBVA is working hard to create personalized experiences capable of anticipating customer needs. For instance, if a user makes the same transfer at the end of each and every month, then it would be great if, when logging in on, say, the 29th, the app itself remembered all the details and prompted them to simply authorize the transaction with the click of a button.
This is a fairly basic example, showing only the tip of the iceberg. BBVA expects the impact of AI to permeate all areas and processes, where it can automate tasks and achieve breakthroughs through more efficient decision-making and increased productivity; not to mention the creation of a whole new generation of services in the realm of financial advice, an aspect that is of particular interest to BBVA, whose priority is to help its customers manage their personal finances and accompany them in their transition to a more sustainable environment.
"We want to be incredibly useful for our customers, for them to see that BBVA genuinely cares about them and to say: my bank is making my life much less stressful," concludes Puente, who, with these goals in mind, believes that BBVA's transformation can be truly immense. "The sky's the limit," he exclaims.