The world of remotely piloted aircraft systems is currently revolutionizing all sectors and has now even come to universities.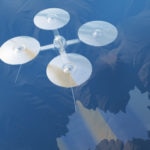 Graduation from the remotely piloted aircraft systems (RPAS) course. A group of around thirty students have been learning everything about the drone universe at the Valencia Polytechnic University. This 320-hour course is taught every four months, and students graduate knowing how to pilot and build their own drone. And what are drones for? "For everything", says bluntly Israel Quintanilla, Doctor in Geodesic and Cartographic Engineering.
The first graduates of the course, which is jointly directed and taught by airline pilots, industrial engineers, IT and telecommunications specialists, have included everyone from journalists to architects. And a number of engineers too. The course covers much more ground than the 50- or 60-hour courses taught in schools to obtain a certificate to pilot a drone.
Quintanilla highlights that in one year alone, 370 companies for operating drones have been set up in Spain, all authorized by the State Agency for Aerial Security (AEASA), which is responsible for regulating the use of this type of remotely piloted aircraft. "This sector is much in demand and highly crosscutting".
And to explain their success in such a short period of time he points out: "The advantage of drones is that they're cheaper than satellites, helicopters or planes. The quality is the same or better, as they fly lower. And the key is that I can acquire data when I want, and as many times as I need. Top-quality data at a very low cost".
To illustrate this point, he highlights the example of "a quarry, where you save yourself all the equipment. A drone helps you map it out without having to mobilize a lot of resources. In the case of farm crops you can see the evolution over time, whereas before you had to be content with a couple of multispectral satellite images and ask for another if you had enough budget. Drones are much cheaper".
The drawback is the duration of the batteries. "Autonomy is one of their limitations", points out Quintanilla.
Types of drones
The professor explains that there are two types of drones:
Fixed-wing which are similar to planes as they have the same structure and aerodynamics but with smaller dimensions, and are powered by combustion engines or an electric battery.
Multi-rotor: these have several blades depending on the load they have to carry; tricopters with three blades, quadcopters and so on. They are capable of static and vertical flight.
The battery in fixed-wing drones lasts up to 40 or 50 minutes, and according to Quintanilla, this makes them suitable for carrying out surveillance flights or for emergencies; whereas multi-rotor drones are more versatile for inspecting static elements wind turbine blades, cathedrals and their battery lasts between 12 and 20 minutes. Military drones are a special case as they have around 14 hours' autonomy, can reach speeds of up to 250 km an hour and have a wingspan of 8 meters.
This sector is still in its infancy and its limits cannot even be imagined. Quintanilla believes that with the new regulations, we can expect to see drones sharing airspace with manned aircraft before very long.
Basic rules for piloting a drone (AEASA)
The regulations allow an aircraft of up to 25 kilos to record outdoors, but it must be by day and in visual weather conditions, in areas outside built-up areas in cities, towns or inhabited spaces, or that are used by people to gather outdoors, in uncontrolled airspace, within the visual scope of the pilot at a distance of no more than 500 meters and at a height above ground of no more than 400 feet (that is, a maximum of 120 meters above the ground).
Regardless of whether an individual is authorized as a drone operator it should be noted that to take photographs or films with any type of aircraft –manned or otherwise– it is necessary to obtain a specific authorization from AESA for this type of activity, according to an Order from the Presidency of the Government dated 14 March 1957.
All drone pilots, regardless of the size of the aircraft, must fulfill a series of requirements:
Pilots must have or have had (in the last five years) a pilot's license (any license, including for gliders, balloons or ultralights).
Otherwise reliably demonstrate that they have the theorical knowledge to obtain it (by some, certified means of theoretical knowledge issued by a training organization approved by AESA, ATO, or in the case that this knowledge corresponds to an ultralight pilot's license, by means of an individual qualifying certificate after taking the corresponding theoretical knowledge exam).
Or if the maximum weight on takeoff does not exceed 25 kg, by means of a basic or advanced certificate issued by an approved training organization (ATO) after taking the corresponding course.