González: "We women use technology but are not involved in creating it"
Daniela González (26) is head of Epic Queen, a social enterprise which aims to inspire more women to join the world of technology and help to grow the Mexican ecosystem. Not long after its creation, the company has already gone beyond Mexico. She is one of 33 players promoting innovation in Mexico.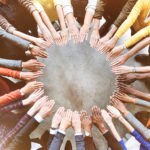 Can you tell us a little about your company? What services does it provide, and which sector is it in?
Epic Queen is the first Mexican organization which aims to get more women involved in technology. We have various programs to help women develop 21st century skills and use them now and in the future. Epic Queen works in the education sector. We are very interested in the gender issue since this was a topic both Ana Karen Ramírez (co-founder of Epic Queen) and I saw as relevant from the very beginning.
The project was born 18 months ago. First, we created a blog about the importance of technology. About getting women involved. But we realized this is a worldwide issue. The fact that there are not many women in the technology sector was not something two friends writing online came up with. Actually, 98 percent of the technology sector and its leadership positions belong to men. Also, within five years –that is, very soon– job demand and supply will reach 1.4 million jobs. In other words, to meet these needs we will need more than the current number of technology students. And then we thought, 'We women use technology a lot but are not involved in creating it. Why is that?' We decided to help solve this problem.
How did you go about founding Epic Queen?
We started by knocking on doors, and we eventually contacted Google and explained that we wanted to create a community of women. However, above all, we want to meet people in the technology sector who could be our role models.
We launched Epic Queen Charter; this monthly event is now hosted in 24 cities in Mexico and six other countries. We talk with three women who are role models. They work in technology in different roles and positions. The aim is for them to give other women a closer look at technology, and inspire and help them to fulfill their dreams through technology. And we began organically. But in November 2014 we wondered what was happening with the new generations. Technology interests them from an early age but when they get to high school they push aside maths, science and technology itself.
We went back to Google and told them that there was a lot of work being done in the USA to teach young girls the basics of programming. And we wanted to do the same in Mexico. We started with a project called Cool Party (coolparty.mx), the first party aimed at training young girls in how to create technology. For three hours, seven- to twelve-year-old girls imagine, learn and discover everything they can do with technology, and make their dreams come true. We work on the prototype – meeting a woman who works in the sector, and learning the programming basics in blocks.
We realized that we wanted to become an organization that developed different programs. We currently organize workshops, hands-on sessions which help young girls and women to become technology creators. And for those of us who are not young girls, we provide the tools to gain the relevant skills.
We are currently working toward encouraging more women to pursue their own path but, mostly, we are trying to help them see their options. And often this is what they need the most. There are already 92 of us working as volunteers, and more than 30,000 women have attended our events. More than 200 have been speakers and protagonists. All thanks to a community of more than 10,000 members.
When did you start collaborating with the entrepreneurial ecosystem in the country?
I started in entrepreneurship at 21 with a project that had more to do with the mass event sector. I learned a lot. It was a huge project and I had the chance to meet people who were very active on the internet. I had to organize an event within four months and thanks to the power of social media, we created a community of 20,000 people just for this event. It was an amazing experience. The project ended up not growing much. Naturally, entrepreneurship is hard but also fulfilling when you are actually able to change people's lives.
Later, I started working in digital marketing for the Monterrey Institute of Technology and Higher Education. I helped open the digital marketing department for the Tec system. After working in this area for two years, I moved to entrepreneurship and focused on communication, on projects which were connected with my university training. Things started going really well and I decided to merge to create something bigger. I have always been involved in community and entrepreneurship. I really liked technology but I always used to say that technology was not my kind of enterprise. And I didn't realize otherwise until I won the Startup Weekend contest. Contestants are challenged to create technology business units within 54 hours. It was then that I started thinking I could work with this.
I reflected on my situation and wondered how many women were not able to start an enterprise or do something big. I have met a lot a women who say, 'I would like to open a clothing store, patisserie, jewelers...' but not a lot of them think, 'I can be the next person to save lives, to use technology to invent biodiesel, etc.' In other words, take a step farther. So, based on my experience and the many people involved in technology I met, I said to myself, 'Well, this is exactly what I'm missing.' It was mostly a matter of seeing technology as a way of building your dreams, as a tool. It was a very interesting starting point. When we started the blog, we wrote inconsistently for six months. For the last 18 months, we have been writing more consistently and with greater focus.
What do you think are the challenges or obstacles facing entrepreneurs in Mexico today?
One of the main challenges is that the boom surrounding this topic makes you think you can do it very quickly; you want for it to be quick. Another challenge is that even though we are experts in a field, we may not know how to start an enterprise, how things are taxed, or what the legal or monetary implications are. How to capitalize something that is very good and widely accepted is another major challenge.
And also not despairing. Being an entrepreneur may be a career but it eventually becomes a life style. You need an emotional license. There are great tools are your disposal but you need to find the balance between continued planning and fast execution.
How would you define the DNA of the Mexican entrepreneur/innovator?
Stubbornness. This is one of their main characteristics but, in the end, it means being persistent. And passionate.
I have also seen team work, even though this could do with being further developed. I have met people who really want to work and make sacrifices because they know that's the way to do it. You also need to keep going, not give up or let criticism get to you. People will always criticize. Nowadays, some people understand entrepreneurs and others don't.
What are the main characteristics of Mexico's current entrepreneurship ecosystem?
I think there are more and more people who wish to become entrepreneurs, and we entrepreneurs try to help. Naturally, there is a big difference between things in Monterrey and things in Mexico City (I'm from the north). I think it's not very centralized. There are a lot of social and technology niches... In other words, there is a lot of specialization but at the same time everybody knows each other. This is very interesting because you meet people at conferences, events, everywhere.
You can feel there is collaboration but I think there should be more unity. A lot of people want the spotlight but most want to connect and help each other, and this is a major step forward.
In your opinion, what is the role of government and non-government bodies in entrepreneurship?
The government is implementing a lot of initiatives such as the Entrepreneur Week. There are a lot of accelerators and incubators that want to do the same. There is still a lot we don't know, specifically how they can help you. The problem is that not everything is for everyone. We need to know which processes have been activated, which are good for us, which are not... We need information about this. We are still in the very early stages with regard to this. But this is very important because without some congresses or initiatives it would be worse. There wouldn't be a lot of people wanting to do things.
How would you define the financial opportunities for Mexican entrepreneurs today? And why?
In my specific case, financial opportunities got hard. At first, when we only blogged, we started attracting interest in a very organic way. We weren't a technology startup per se because we weren't selling a product or service. Later, when we organized community events, sponsors got involved and it was hard to explain it. It wasn't very easy to understand. Finally, when we thought it made more sense to move to the social side, to innovate from the social side, we asked ourselves, 'Who should we choose now?'
We haven't been around for long but we have grown a lot and a lot of people know us, mention us. It's also true that other enterprises are only just starting. Social entrepreneurship sort of 'doesn't exist'; it's very uncommon. And in our specific case things have been difficult. And the reason is the same: we don't know how and where our enterprise fits in. Different people have wanted to help us and collaborate but we don't just need money. We need them to be there with us and say, 'Perfect. You are not focused on figures or money issues.' Naturally, it's important to have a profitability and sustainability model but our goal is to impact people. This is our aim and it's hard to achieve.
How do you see the future of innovation in Mexico?
I believe that the more areas for opportunity there are in Mexico, the better; and innovation certainly needs to be one of these areas. For example, I find it very interesting and a real cause for concern that people in Mexico don't realize that oil, on which we depend as a country, is running out. If we don't do something to build or, in this case, invent new technologies such as biodiesel, etc. we are in big trouble as a country. It's interesting that when there are problems and the more problems there are, the more opportunities come up. I think innovation is getting stronger but also how to plant the seed of entrepreneurship. I have often wondered whether I should go corporate and work in a company. You realize that you don't agree with what's around you and you think you can change it. And if you believe, you create. That makes a difference.
What advice would you give a prospective Mexican entrepreneur?
First, choose something you are passionate about, something you like; and define the issue very clearly. If you want to help bring about the change, you can start but you need to look for allies. Because you will realize there are other people like you who wish to change. Take the first steps, and everything else will follow. This is my first recommendation: go ahead and start building. And also look for signs because your first attempt may not be successful. In my case, I never thought that Epic Queen was a company, my next project. It was a hobby but I started growing passionate about it and getting more involved in the topic. You need to determine what's working and where you are heading.
According to Daniela González, women must feel they are able to start enterprises and do things big. They must not be restricted to traditional enterprises; they must break the mold and use technology as a career alternative.