How BBVA built a snowball to increase digital sales in Spain
By using AI to better understand customers financial lives, and to then offer them better advice and specific products, BBVA has been able to significantly increase digital sales.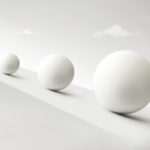 As BBVA unveiled a successful set of third quarter results at the end of October, the bank's digital sales statistics told a far deeper story. It's a story that BBVA has been growing for more than four years now, a digital transformation initiative aimed at driving 'intelligent sales' across the group.
But what does this push towards AI powered intelligent sales mean, and how does it impact customers and clients?
Let's start with the statistic unveiled by BBVA's CEO Onur Genc during the bank's Q3 results on October 31st - that digital sales across the group now stood at 58.9 percent. Measured by economic value, that equated to 44.8 percent of sales value across the group, in line with the target to surpass the 50 percent threshold in 2020.
The route to getting to this stage, though, began several years ago with BBVA recognising the ever increasing importance mobile was going to play in the banking lives of its customers.
The key insight was that in coupling artificial intelligence led data analysis with great customer experience on smartphones, the bank could begin to hyper-personalise the products and services it showed its customers. At the same time, this would help increase the engagement levels between customers and the bank.
As an Oracle report put it earlier this year: "In the era of 'Intelligent Banking', banks like BBVA and Citi are applying AI and autonomous solutions to grow margin and revenue using the most effective channels."
"Leveraging their data, they personalize communications and systematically maximize sales conversion. 'Intelligent Sales' is not just about business growth, but also about being relevant to their customers and meeting their needs at moments that matter."
For BBVA this level of personal relevance is a key part of the bank's stated aim to become better advisors to its customers and clients, weaving together various business units within the bank to make it happen.
To start with, the bank needed to build the data analytical capabilities required to understand customers financial lives, and to be able to compare that data both to a similar peer group and then to a cross reference of its products and services to see what fit there was.
Doing this involved not just launching two dedicated data functions - firstly a Global Data Platform and then secondly the BBVA AI Factory - but training and installing more than 830 data scientists, 140 AI experts and developing more than 350 user cases to be able to understand and implement the data being seen.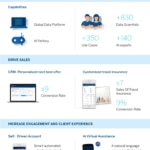 The next step was to create what the team in charge call its snowball effect. This involved building a series of layers into the way in which products and services are promoted to people and developing that model over four years.
For example, in Spain, the first stage centred around changing the way promotions were advertised to customers. Adding in rich media imagery and ensuring the product being pro-offered fitted with the customers' general profile.
The next step was to ensure the bank unblocked bottlenecks for customers - so for example, if a customer starts an online application for something, but does not finish it, the bank then makes sure that if the customer then logs in through a mobile device, they can continue the application without having to input the same data again.
By tailoring the products and the way they were presented to specifically fit the customer's financial needs and how they access the bank in the first place, in Spain alone, for some campaigns it led to a nine-time increase in digital sales.
"In Spain alone, for some campaigns, this strategy led to a nine-time increase in digital sales"
Another important step was beginning to link things together - for example, if a customer is taking out a car loan, then insurance specific to the car they are buying is offered to them at the same time with an advantageous rate.
Lastly, the digital sales team also worked closely with both the design team, and the behavioural economics team - all of which sit within the same business unit headed by CMO Rob Brown - to join their work flows together.
A great example of this was after BBVA was named as having the world's best banking app for the first time, in 2017, the team immediately redesigned it based on customer feedback and insight from the behavioural economics team as to what worked best for customers.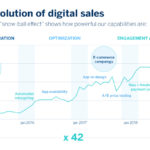 The end result of this was that by tailoring the products and the way they were presented to specifically fit the customer's financial needs and how they access the bank in the first place, in Spain alone, for some campaigns it led to a nine-time increase in digital sales.
The same was seen when the business started personalising travel insurance, again specific to the person and therefore able to more competitively price the offers - with again a seven-times better uptake for some campaigns - again in Spain alone.
And it wasn't just sales that saw an impact - as BBVA added increased personalisation tools to its app, like smart automation rules to help clients manage their finances, such as saving or overspending alerts - so too did engagement rates rise and attrition rates fall.
This increased further as the user experience was iterated and improved - for example by adding AI-powered natural language virtual assistants to the app, as the bank has done in Mexico, so customers could speak to the bank and ask for things to be done on their behalf.
Commenting on the change, BBVA's Chief Marketing Officer and Global Head of Digital Sales, Rob Brown, said: "The innovations that have been delivered have always been focused on our desire to give our customers a world-class banking experience, whatever channel they use."
"But we also hoped that the better we could do this, the more relevant, individual and personalised the products and advice we could offer, the more chance we had of customers contracting our services and continuing to bank with us.
"So to see the impact now in strong customer uptake figures, in reduced attrition and with increased engagement across our channels, is a huge endorsement of the work our teams have, and continue to, put into delivering an amazing customer experience at BBVA."
And with BBVA's digital customer numbers continuing to grow steadily - 57.7 percent of the banks customers now digitally engage with the business, and 49.7 percent use mobile devices to connect with it - this focus on digital sales is going to continue to prove critical to the bank's overall performance.