BBVA doubles down on its data push with the creation of the AI Factory
AI Factory is the global development center where BBVA builds the artificial intelligence capabilities that power both its customer solutions – for both the retail and corporate segments – and the Group's streamlined internal processes. The new structure brings together, under the same roof, a cross-disciplinary team consisting of data scientists, teams from the Engineering area, and representatives from other business areas.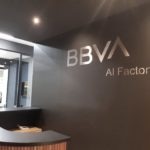 "The smart and responsible use of data is one of the key levers of BBVA's transformation; one on which we have been working for years. In this line, the purpose of the AI Factory is to contribute to driving this transformation, focusing on those areas where AI can have a more differential and larger-scale impact," says Ricardo Martín Manjón, Global Head of Data at BBVA.
The new factory will work following the 'agile' methodology, adopting a fully global perspective to guarantee that all its AI solutions can be reused and scaled across other business units and countries. This will allow BBVA to shorten its new solutions' time-to-market, while delivering a consistent user experience to all customers across the globe.
"The AI Factory will allow us to have the best tech and data teams working in an integrated manner, with the aim of developing algorithms that can be embedded into the bank processes to enrich our channels, products and services through personalization, contextualization and recommendation. And also to streamline and increase the efficiency of our internal processes," said Ricardo Forcano, Global Head of Engineering at BBVA.
The new AI Factory is located at BBVA's premises on the northern fringes of Madrid, very close to the bank's central headquarters. About 150 professionals make up this initial team of this new workgroup, which also encompasses the BBVA Data & Analytics and Madiva Soluciones, the institution's centers of excellence in advanced analytics.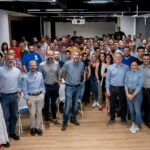 The AI Factory team at their new headquarters in Madrid.
BBVA's push to develop data-based services capable of providing valuable advice to make its customers' lives easier has materialized in the shape of a series of products and features that are already available through the bank's award-winning mobile banking app.
Some examples of this are BBVA Valora, a tool that allows users to find out the fair rental or purchase price estimates for any given property or housing unit, which accumulates 125,000 monthly searches since September 2016; or Bconomy, a financial health assessment feature already used by over 2.1 million people every month. Another example is One View, BBVA's account smart aggregator for companies, which has over 80,000 registered users since its launch.
In fact, the data-driven services that power the BBVA app are among the key features that Forrester has taken into consideration when it recently named it Europe's and the World's best mobile banking service for the third and second year running, respectively.
BBVA's AI Factory is, in short, one of the boldest bets by any financial institution across the globe to seize and bring the opportunities of the age of data to everyone.
To commemorate the opening of its AI Factory, BBVA held an in-house event for its employees that was attended by relevant figures of the academic world, including Hod Lipson, expert roboticist from Columbia University, and experts from digital companies such as Darío Gil, head of IBM Research or Ricardo Baeza Yates, Winner of the Informática 2018 Award (2018 IT Award) and CTO of NTENT, a semantic search company.