The country is far behind the big powers like the US, China and Israel.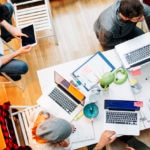 The Qualcomm Innovation Society Index (QuISI), which compares local economies with each other and with those of the developed world in terms of level of connectivity or adoption of the Internet of Things, shows that in Mexico"although the penetration of smartphones is good, it is not yet good enough (57%)". The Mexico QuISI is 46%, ahead of Colombia (40%), on the same level as Brazil and Argentina, but far behind other powers, such as Israel (66%), China (65%) and the US (74%).
The report points out that "mobile broadband coverage has not yet reached the general population, nor does it provide competitive speeds (it is the fifth worst in mobile internet among the countries OECD).On the other hand, an increasing number of people have access to new technologies (24% already have an Internet-connected device).
As regards the Government's initiatives in the field Innovation, Mexico falls short of other countries: "While the average IT investment in Latin America is 2.6% of the GDP, in Mexico this is around 2.21%".
Source | Forbes