Kai- Fu Lee, the Chinese rock star of artificial intelligence
Kai-Fu Lee, founder of the venture capital fund, Sinovation Ventures, is as popular in China as Elon Musk is in the west. With 50 million followers on "China's Twitter," the social network, Weibo, he was dubbed by Wired as the indisputable rock star of China's technology scene.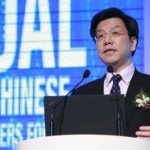 Lee is the founder of the venture capital firm, Sinovation Ventures, with whom BBVA has just signed an agreement to invest $50 million in a fund specializing in artificial intelligence (AI). BBVA's investment is a show of support for one of Mr. Lee's most impassioned visions. Mr. Lee has grabbed headlines in the international press for claiming that China will be the world leader of artificial intelligence solutions and services, ahead of the United States.
"So, we're not in the age of discovery; we're in the age of implementation, we're in the age of data, and China has a better set, a larger set of implementers or good AI engineers who get the work done, who make the algorithms run fast, connect to business logic," he states in an interview with Wired.
The Taiwanese engineer and businessman even dares to predict that China will embrace self-driving cars five or ten years before the United  States, where the phenomenon won't see wide-scale success for another 15 to 20 years, according to an article in Forbes that compiles Lee's predictions explaining why China will be the world leader in AI.
From Apple to Microsoft
Kai-Fu Lee's predictions receive a lot of media attention thanks to his expert knowledge of the US technology sector where he spent most of his professional life. In fact, Lee (56) was born in Taiwan but emigrated to the United States with his parents when he was very young. His obsession with artificial intelligence was already apparent at university. In 1988 he received his doctorate from Carnegie Mellon University developing what is considered to be the first speaker-independent speech recognition system known as Sphinx.
Lee's work did not go unnoticed by the industry, and in 1990 Apple hired him to oversee their research laboratory. From there, and after a stint at Silicon Graphics, he joined Microsoft, which took him back to his country of birth. He played a key role in establishing Microsoft Research's laboratory (now MSR Asia) in Beijing. It is still considered to be one of the most important research labs in the world.
Google hired him some years later, which resulted in a series of lawsuits by Bill Gates' company, concerned that Lee's joining Google could signify the disclosure of important competitive secrets. After the legal disputes had been resolved, Lee managed Google's roll-out into China and became President of the search engine's Asian subsidiary until 2009 when he decided to become an investor, betting on Chinese talent and technology from his own venture capital fund.
Lee believes the time has come for the west to re-examine its attitude toward Asia and realize that that's where the pace of innovation is now being set, not from Silicon Valley, as he mentions in his interview with Wired.
"I think from a logical standpoint the time has come to copy from China.  But from a reality standpoint, I think first the West has to know that China is now ahead in many technologies and actually many business models, products and features. For example, if you compare WeChat with Facebook Messenger or WhatsApp, if you compare Weibo with Twitter, if you compare Alipay with Apple Pay, China is leaps and bounds ahead of the US. [...]. Chinese entrepreneurs know everything about what's happening in Silicon Valley.  Silicon Valley people, a few of them know a lot about China; some of them know a little bit about China; most of them know nothing about China."