BBVA´s CEO was invited to speak at the third edition of an annual meeting organized by the students of the Koç School in Istanbul. The event analyzed opportunities in fintech as well as technology and digitization´s contribution to the banking sector.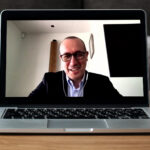 During the roundtable, The Present and Future of Finance: Banks and Fintechs,  Onur Genç  addressed the changes in the financial sector and the current relationship between banks and fintechs in terms of their competitiveness and collaboration. The discussion´s participants also addressed Coronavirus´ impact on finance, entrepreneurship and the fintech ecosystem both in Turkey and around the world.
For BBVA´s CEO, the biggest change in the financial sector has been the digitization of services. Ones that were previously provided physically, are now being offered mainly through digital media. Onur Genç highlighted that a very important asset for banking is having "the customer's trust." It's an essential element for helping them manage their money and advising them on their finances. "In fact, it's become increasingly relevant as a result of technological advances," he said.
Onur Genç explained that digitization in banks is progressing on four levels (servicing, customer acquisition, digital sales, and advice). Adding that we can already see some of its fundamental benefits through its products and services, its granting of credit, and through client acquisitions that have now migrated to digital channels. The next step will be to also provide financial advice digitally.
According to the CEO, 65 percent ​​of people say that money is their current main cause of stress. That's why banks should offer advice on investing, saving, using credit,  and maximizing their business´ cash flow. "We are working on merging human and digital aspects to our advisory services," he added.
Fintech power
The way Onur Genç sees it, thanks to these technological advances, fintech began to provide better services, which led to banks incorporating technology in order to optimize their own types of services. In some cases, it has looked for opportunities to collaborate with them instead of competing. In fact, the Group has invested in more than 30 companies in the industry and six of them have achieved a unicorn status, with a value of over $1 billion, he explained.
Onur Genç commented that when a fintech company contacts BBVA, it receives a response within four days. He also stated that this term will also be implemented in Turkey, after its initial application in Spain and Mexico. As a result, 18 financial tech companies have been integrated into BBVA's services.
In the CEO's opinion, the fact that clients trust banks more for dealing with financial matters is a fundamental fact that reaffirms the idea that the relationship between both should be collaborative. Fintech companies succeed in niche markets thanks to specialization, technology and agility; and banks have financial power and big data," he said.
Onur Genç also addressed the growth in blockchain technology, which in his opinion, will influence many sectors, especially banking, transforming it into an issue that must be investigated and addressed.