If Google, Uber, Apple, Amazon, Tesla have it their way, 2017 will be the year of the transport revolution. A revolution that will inexorably disrupt markets and societies, with a fresh new wave of self-driving, electrical, connected, faster and sustainable vehicles.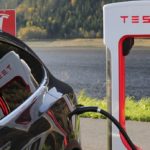 Uber's driverless car already hit the streets in San Francisco, after some testing in Pittsburgh. Driverless? almost: these cars come with an engineer behind the wheel to monitor or take over when needed. It remains to be seen how long it takes this "driver advisor" to disappear.
But some of these new vehicles haven't got wheels. Last week, Amazon completed its first drone-powered delivery, part of its Amazon Prime Air program. One lucky Brit received his purchase just 13 minutes after placing his order. And Airbus is already developing helicopter-like driverless vehicles, and plans to begin its test flights in late 2017.
For years, Google has never ceased to surprise us with its futuristic car prototypes. Formerly the Google self-driving project, Waymo is the independent company that Alphabet – Google's parent company – has launched to develop this type of projects. But if there is a company that is ahead of the rest, that's undoubtedly Tesla Motors. Its Model 3 is a completely self-driving vehicle that will launch in 2017.
Through its recent partnership with General Motors Lyft, Uber's arch-rival, is expecting to develop self-driving cars capable of saving us rides, whether in public or private transport. The freight transportation segment is also ripe for disruption. A few weeks ago Uber self-driving truck startup Otto made its first delivery in the United States.