eSports is one of the digital industries that has grown the most during the COVID-19 pandemic. In May 2021, more than nine million users watched around 2.3 billion hours of gameplay on the streaming platform Twitch alone, which in the first quarter of the year reached a historic 6.3 billion hours watched, doubling the viewing figures of the same quarter in 2020. It is estimated that by 2022 eSports will have global audiences of more than 600 million followers. Streamers are looking to offer these audiences unique new experiences that go beyond gaming and even leap from the virtual to the physical realm.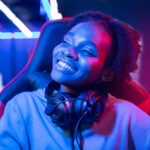 eSports, one of the digital industries that has grown the most during the COVID-19 pandemic, is now much more than professional online video game competitions: it has also expanded into an ecosystem of content that is diversifying, leaping into the physical space and bringing together a growing young, diverse, digital and cross-border audience.
41% of Twitch users, one of the main streaming platforms for video games (owned by Amazon) that has a major focus on eSports, are between 16 and 24 years old; 32% are in the 25-34 age bracket. "These audiences demand that entertainment is linked to interaction," explains Iván Moreno of BBVA Client Solutions. "Younger generations are no longer in the traditional communication channels and decentralize content generation, as they are very active in creating and consuming their own."
New experiences and venues for new audiences
What started out as a niche business is now attracting crowds, a trend that will continue to grow. It is estimated, for example, that by 2022 eSports will attract audiences of 645 million fans. "Almost half of them will go beyond the occasional following, they will be enthusiastic fans," Moreno continues. And while the Asian world dominates the game and fan figures, the penetration of eSports in Europe and Latin America is rapidly growing. One such Spanish streamer is TheGrefg, who in January this year broke the Twitch record with 2.5 million simultaneous viewers. But TheGrefg is not only a player and partner of an eSports team, he has also written two books and starred in a TV show.
These streamers are becoming mainstream idols, seeking to offer new experiences to their fan communities, experiences that are beginning to leave the world of professional gaming and permeate traditional sports. An example of this is Ibai Llanos, who will broadcast the Copa America soccer tournament for free on his Twitch channel after acquiring the broadcasting rights in collaboration with Kosmos, a company chaired by Gerard Piqué. Or the former boxer Floyd Mayweather, who in early June 2021 returned to the ring to fight against the 'youtuber' Paul Logan, an event that has been questioned by the most diehard boxing 'fans' but that has aroused great media expectation.
The opening of the first physical 'gamer' store in Spain, which seeks to integrate digital and physical arenas and offer "new experiences that lead customers to a new type of digital entertainment", is a further commitment to continue bringing electronic entertainment to their audiences.
Exponential growth
Twitch reached a record 6.3 billion hours viewed in the first quarter of 2021 (doubling the viewing figures for the same quarter in 2020), followed by Facebook Gaming with 1.06 billion hours and YouTube Gaming with 1.37 billion. Faceit, a 100% 'gaming' platform, has more than 10 million users, and Twitch, which broadcasts some of the world's top eSports competitions, has more viewers than many major US TV channels. In May alone, more than nine million users watched over 2.3 billion hours of gaming on this platform.
"eSports are the most profitable area of the Digital Media & Entertainment sector," says Moreno. "177.8 billion dollars was billed worldwide in 2020, a figure that is expected to exceed 200 billion in 2023. By that year, 2023, it is estimated that Spain and Mexico will reach a turnover of $2.09 billion and $2.45 billion respectively."
These figures will only grow exponentially, and the constant search for new content and unique experiences will be a fundamental part of this growth. A fact that brands are taking good note of in order to reach these new audiences in their own communication platforms. "Traditional brands such as Honda, Mercedes or BMW are being very active in terms of team sponsorships and even eSports leagues, and financial companies such as Visa, Mastercard or IMC have been reinforcing their strategy in this sector for several years," says Iván Moreno.