Google believes that in-house talent development is one of the keys to success. It is necessary to "promote technology from an early age. Just as there are role models in painting, film or sports, we also need to have role models, people younger generations can look up to, capable of sparking their interest on this field."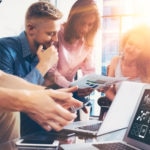 Andrés Leonardo Martínez -developer program manager at Google- landed in Spain in 2013 after spending a few years in the United Kingdom: "I arrived in the midst of the financial crisis to help create companies and build a business network." The first thing he thought Southern Europe was missing that Silicon Valley or Tel Aviv did have was "critical mass." For Martínez, "a lot of very intelligent people work in these hubs, with the drive and resources to try new things. All the conditions for a business network to develop are there." That is something he didn't find in Europe.
Speaking at an event focusing on the Spanish and European startup ecosystem held at Google's Madrid Campus, he explained how the U.S. tech company defined its goal to "connect people and develop mechanisms, networks and virtual connections." Something that is not easy in a continent with over 30 different languages and more than 500 million people.
The team led by the Google computer engineer defined a roadmap that entailed "first developing the European community, then to instruct technologies, procedures and methodologies to promote the development of businesses."
With all this in mind, added Google's developer, "we started mapping the whole startup ecosystem, including funds, incubators, startups, individuals… to build a critical mass that culminated with the opening of the Google Campus and the connection of initiatives in Spain and Europe."
What separates countries or companies that succeed from others that don't? For Google's specialist the answer is clear: Talent. And he set an example for America again. "Saying that Argentina has one of the best startup ecosystems in the world won't surprise anyone. There are companies there with over 100 million users. Why is this? Argentina found a way of communicating, a way of financing and some very mentally quick and sharp people to connect markets and investment in the United States. It was the people that made the difference with other countries, entrepreneurs who traveled all over the world." Martínez also noted that "from many points of view Argentina is not the best place in the world to start a business, but the digital goods market took off because people made a difference."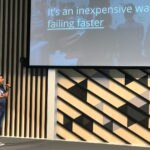 Andrés Leonardo Martínez, during the event.
According to the specialist "there is a population problem: The tech talent available today is not enough to meet company demands. You need to pursue a five-year degree, it's not some trivial thing you can learn in two days."
Martínez pointed out that talent shortage is not an issue that can be solved in the short term and highlighted the importance of "promoting technology at an early age. Just as there are role models in painting, film or sports, we also need to have role models, people younger generations can look up to, capable of sparking their interest on this field."
Martínez also noted that "companies, in the short term, can attract talent basically by offering higher wages." But this is a complex issue, because a company can only pay according to the value it generates: "If I am a startup that sells products that I import from China, my markup will not allow me to pay a lot; on the other hand, if I am a company that designs websites or develops blockchain technology, I might be able to pay much more".
Martínez also points at the education system: "In Spain, Knowledge dissemination policies are underdeveloped. For example, an Elsevier report recently ranked University of Granada as one of the world's four most active universities in machine-learning publishing, alongside MIT, Carnegie Mellon University or Singapore. It's amazing that no newscasts picked up on this story."
The computer engineer called for "increased knowledge transfer to develop high-value added products and be able to afford higher wages". But this will not be enough, said Martinez, "in the medium and short term, business needs clearly requires an active development of talent. They need to start hiring people as soon as possible, offering them the opportunity to develop internally."
And once the talent is sourced... What can startups offer to banks like BBVA? For Martinez, large corporations "are interested in supporting the development of certain ecosystems; basically there are trends and methodologies, which, today, can't be learned elsewhere. The startup ecosystem is an environment where people learn in a collaborative way and this makes it easier for companies to acquire talent."
*If you liked this article and find useful content related to the topic of talent, visit BBVA Careers and connect with us on LinkedIn