The BBVA Foundation rewards creativity, originality and excellence in the computer science world
The President of the BBVA Foundation, Carlos Torres Vila, presented the Spanish Computer Science Society (SCIE) - BBVA Foundation Research Awards in recognition of creativity, originality and excellence in cutting-edge research in the computer science field.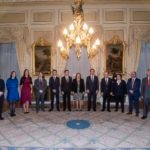 "In order to bring about a better, more sustainable future, we need people who think big, who are ambitious and who break the mold when it comes to generating new knowledge and innovating. Ultimately, we need people like all of the award recipients with us here today at this awards ceremony," BBVA Foundation President Carlos Torres Vila indicated in his speech.
The application of artificial intelligence in medical decision-making, protection against software malfunctions and cyberattacks, and the creation of more energy-efficient systems are just some of the work carried out by the winners of this third edition of the awards, which were presented at the BBVA Foundation headquarters in Madrid.
These awards consist of two different categories: the first is for Young Researchers, which honors six researchers who are under the age of 30, working in Spain, and have the most innovative and relevant doctoral research, presenting them with a €5,000 award; the second, the National Computer Science Awards, recognizes researchers and public and private institutions that have dedicated their efforts "to studying, strengthening and disseminating computer science", as specified in the terms and conditions. SCIE has presented these awards since 2005.
The ceremony was a celebration of the growing capacity of computer science to generate knowledge, and not only transform science and technology, but many aspects of everyday life. At the same time, the challenges stemming from the rise of computer science were also mentioned, such as the socioeconomic changes resulting from the arrival of artificial intelligence, and the challenge of protecting privacy in the age of big data, as the BBVA Foundation President also stressed in his speech.
Meanwhile, SCIE President Antonio Bahamonde emphasized the "need to incorporate computer science in education, starting from primary school, with very detailed content." He also underscored the limited number of women in the computer science field: "Only 12 percent of computer science students are women. It's important to insist that this fact deprives us of part of the talent, but also from a female perspective. A variety of different contributions is fundamental."
The young researchers selected this year are: Aitor Arrieta Marcos (Mondragón University); Juan Cruz Benito (IBM Research); Patricia Pons Tomás (Polytechnic University of Valencia); Aurora Ramírez Quesada (University of Malaga); David del Río Astorga (Carlos III University of Madrid); and Iskander Sanchez-Rola (Symantec).
The winners of the National Computer Science Awards were Humberto Bustince Sola, José García Santesmases Award; Antonio Fernández Anta, Aritme Award; Homeria Open Solutions, Ramón Llull Award; and Nieves R. Brisaboa, Ángela Ruiz Robles Award.