"There is a great opportunity in supporting high-growth companies"
During the closing day of South Summit, BBVA revealed that it is preparing a complete range of financial services adapted to the different stages of growth of startups and scaleups. "We want to be the bank for high-growth companies and finance them," said Roberto Albaladejo, Head of Banking for Growth Companies, who added that there is a "great opportunity" to help them and build "long-term relationships" with them.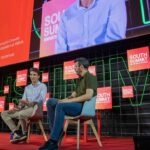 Albaladejo shared the stage with Jaime Bosch, founder of Voicemod, on the last day of South Summit, with whom he had a pleasant conversation during which they reflected on the challenges of startups to scale their business.
"As a bank there are several things we can do," said Albaladejo, who specified three ways in which BBVA is supporting entrepreneurs: collaborating with the entrepreneurial ecosystem through open innovation initiatives, investing capital in these companies and providing financial services and products that include financing.
BBVA has a long history of collaboration with the innovation ecosystem and its investment strategy (Propel, Sinovation Ventures, Leadwind and Lowercarbon), but it is in services and products where the bank will take a new position.
BBVA's objective is to create a complete financial services offering specifically aimed at companies with a technological focus and a disruptive business model. This proposal will offer financing specifically tailored to each of the companies' stages, which, in addition to equity from partners, will also contemplate financing through debt.
"We want to support high-growth companies at every stage," Albaladejo announced. "We have to provide simpler and faster support. The environment is complex and, now more than ever, to build long-term relationships, as banks we must be there. We have a great opportunity to help companies."
Albaladejo addressed an auditorium full of entrepreneurs who were attending the last day of the event and who will undoubtedly be the potential audience for this new proposal.
BBVA will present its new offering for high-growth companies in the coming weeks.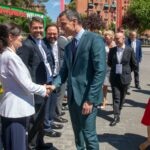 The President of the Government, Pedro Sánchez, greets Ainhoa Campo, Head of Open Innovation at BBVA, upon his arrival at South Summit.
The South Summit then held the official closing ceremony of this year's edition, during which the six winners of the startup competition were announced. The ceremony was attended by Pedro Sánchez, President of the Government, and was attended by Ainhoa Campo, Head of Open Innovation at BBVA.
The grand prize went to the Spanish startup Payflow, with a platform that allows employees to receive their salary, corresponding to the days already worked, as soon as they need it without waiting for a fixed day of the month; the choice for Most Disruptive Startup was Zeleros, which has led the development of a Hyperloop project, the ground transportation system that reaches a speed of 1,000 km/h with zero direct emissions; Nware was recognized as the Most Scalable Startup, thanks to its cloud platform that allows playing any game on any device; the award for Best Team went to Nextmol, which has created a virtual laboratory to accelerate the design of better and more sustainable chemical products; and the award for the Most Sustainable Startup went to Ryp Labs, which develops solutions to make the supply chain of food products more efficient and eliminate food waste.
Of the more than 15,400 attendees at the 10th edition of South Summit, 40% were startups, 30% were corporations and 12% were investors. The event will return to Madrid in June 2023.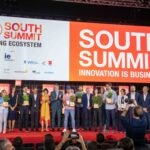 Pedro Sánchez presides over the awards ceremony of the 10th edition of South Summit.