"Real-time measurement of economic activity is a necessity in these times," said Tomasa Rodrigo during the traditional summer course at Menéndez Pelayo International University (Santander), organized by the Spanish Association of Economic Information Journalists (APIE), with BBVA's collaboration and sponsorship.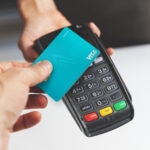 In the session entitled 'Consumption Thermometers,' in which BBVA Research's Tomasa Rodrigo and Repsol's Executive Managing Director of Client and Low​-Carbon Generation, María Victoria Zingoni, took part, it became clear that the growing availability of data allows us to measure economic evolution in an extraordinarily fast and detailed way, which helps society and authorities make better decisions.
"This kind of aggregated and anonymized financial data, that's correctly treated and processed, gives us an accurate and detailed image of the activity," said the Lead Economist at BBVA Research.
The aggregated and anonymized data of purchases made with BBVA cards are a very illustrative example of the advantages offered by big data's usage to monitor consumption with great precision and high frequency, as well as the impact of an unprecedented shock such as the COVID-19 crisis.
During the forum,Tomasa Rodrigo explained that the use of these data sources provide precise information in high frequency and granularity, something that allows us to anticipate the publication of official figures and have more detail regarding the evolution of consumption by sectors, regions, purchase channels, nationality, and means of payment, etc.
In fact, throughout this pandemic period, transactional data has proven to be extremely useful in monitoring the economy in its temporal, cross-sectional and geographic dimensions. "It's especially useful for emerging markets," added the economist.
Analysis of the COVID-19 crisis has shown significant spending adjustments during the pandemic in response to the lockdown, along with a rapid recovery during the progressive de-escalation. According to Tomasa Rodrigo, this data has also made it possible to observe a wide reallocation of expenditure categories and income groups that have been corrected as mobility was recovered.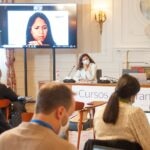 BBVA Research's Tomasa Rodrigo, during the session entitled 'Consumption Thermometers.'
National card spending exceeds 19 percent of pre-pandemic usage in 2019
BBVA Research's latest report, 'Impact of COVID-19 on Consumption in Real Time and High definition,' shows how card spending in May exceeded May 2019 levels by 19 percent (+36 % year-on-year rate, that is, with respect to May 2020). Restaurants and leisure experienced the greatest recovery marked by the effect of the end of the state of alarm.
Physical purchases, or those made in person at establishments, have benefited from the progressive lifting of restrictions and show an increase in spending with both national and foreign cards. Social activities have shown the most growth, with restaurants and bars leading the recovery and with 27 percent more concentrated card spending compared to May 2019. This was followed by leisure (+ 20 percent) and sports ( 13 percent). Online purchases, which were favored throughout the pandemic period, also saw a rebound in May (they were 52 percent higher than purchases in 2019 of the same month).
The only sectors that have not recovered their levels of spending from the year before the health crisis are department stores, beauty and fashion, which also continue to experience small declines in the last three months. Accommodations, travel and transportation, although not at pre-COVID levels, have seen a change with a very clear boost in spending in the last month of May.
The latest data for the second week of June indicates that card purchases have accelerated by 36 percent in Spain in the year-to-year rate, 25 percent more if we compare it with the same week in 2019. What especially stands out is non-contact spending, or e-commerce, by both Spaniards and foreigners, which was 54 percent higher during the second week of June if we compare it with the same period in 2019.