Doubts about the true value of the 9 billion dollar startup have shaken Silicon Valley.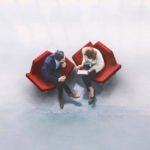 Elizabeth Holmes is known in Silicon Valley as "the new Steve Jobs." She is CEO of  Theranos , a "unicorn", as the unlisted startups valued at more than 1 billion dollars are known. Her company became famous when it developed a pioneering technology for extracting and testing blood and selling a method for carrying out 30 medical tests with a single drop of blood. A story in The Wall Street Journal has shaken Silicon Valley. The publication said that it does not believe that the blood analysis company is what it claims to be.
In another article,The Economist tells the story of Theranos. The company run by the 31-year-old billionaire has attracted great interest because it claimed it could perform a wide variety of tests by drawing just a few drops of blood instead of using a full-sized needle to take larger samples; and because of its promises to make it cheaper and easier for consumers to get blood tests without having to go through a doctor. However, in recent months the media have raised doubts about the reach and technological reliability of the startup.
Theranos was created with the aim of disrupting the market for blood tests that in the U.S. alone is worth an annual 75 billion dollars.  A recent injection of 400 million dollars from investors has given the startup an implied value of 9 billion dollars. However, the foundations of what appeared to be a thriving business that uses technology to help the lives of millions of people are now turning against it. In the last two weeks, Elizabeth Holmes has had to field a slew of negative news items.
The Wall Street Journal claims that Theranos has exaggerated the reach and reliability of its technology, as it says its tests are not reliable. It reveals that it only carries out some of them with its own devices, using other firms' technology for most of them.
The Food and Drug Administration (FDA) has also published some negative reports after carrying out inspections in Theranos. They accused it of distributing an "uncleared medical device" and said that the company lacked an adequate system for responding to complaints. Separately, GlaxoSmithKline, the pharmaceutical giant for which Theranos ha claimed to have done tests, said that it had not done any business with the  startup in the past two years.
Controversy about the startup's value
The Economist highlights two disputes in this case. The first is What would have happened if Holmes had been a man instead of a woman? Of the 142 unicorns in existence, only 3 are headed by women. And in none of the others is the CEO a woman.
The Economist points out: "The best-case scenario is that Theranos has simply experienced more setbacks than onlookers had expected, and that its technology will eventually catch up with its lofty valuation. Every startup has difficulties, especially in highly regulated industries like health care. Some women working in the tech industry question whether a young man trying to overthrow an established industry would face as much criticism as Ms Holmes has in recent days. But if the allegations prove to be true, at the very least Theranos's valuation may never again reach the heights seen so far."
The second controversy is related to the true value of unicorns. The Economist explains: "In several respects, Theranos is highly unusual in the tech industry. Formed twelve years ago after Ms Holmes dropped out of Stanford University, the firm has not raised capital from the usual suspects in the tech or medical businesses. Only one prominent venture-capital firm, Draper Fisher Jurvetson, has invested, along with Larry Ellison, one of the founders of Oracle, an IT giant. Several of its investors are small-time players with no known expertise in the industry. Its ten-member board boasts George Shultz and Henry Kissinger, two former secretaries of state, but only two people with medical training. The average age of board members is nearly 76."
However, The Economist adds: "Yet in other ways, Theranos evokes a central theme in today's tech industry: startups which promise to disrupt lucrative businesses and become valued on the basis of fantasies about their potential, rather than present reality. Investors are so keen to get a piece of any sexy- sounding startup that they lap up entrepreneurs' hype - and anyone who asks awkward questions risks being cut out of the funding round in favor of someone more trusting.".
Unicorn fever in the United States explains the inflation of valuations among unlisted technology companies. Today there are 142 unicorns, more than three times the figure in 2013. They grow quickly, but in terms of reaching profitability, they are far behind the listed competitors they are seeking to replace, and meanwhile they are burning through cash.
For example, Theranos is not believed to have significant revenues or profits, even when it has been valued as highly as Quest Diagnostics, a listed laboratory company that last year had revenues of 7,400 million dollars and a net profit of nearly 600 million dollars.
As The Economist concludes: "Many unicorns have been insulated from scrutiny, because they have no obligation to publish figures or provide progress reports on their technology. Not having to worry about a fluctuating share price frees their founders to think long-term, but also makes it easier for them to brush aside searching questions. However, in time Silicon Valley's growing herd of fabled creatures will have their encounter with reality. If they do not live up to their promise, their valuations will slump, either at their next funding round or when they finally go public. Many vials of blood may spill."