Teleservice, furniture design and marketing: virtual and augmented reality open a world of applications with an unsuspected potential beyond video games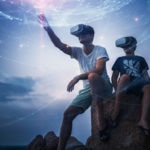 The commitment to augmented reality and virtual reality in industrial sectors and marketing can turn into an engine for growth and savings for companies. Mateo Moreno and Carlos López were convinced of it when they started their business venture.
In late 2016, Oarsis was founded in Valencia, a project incubator for virtual and augmented reality. In less than one year, the incubator has launched several start-ups and now is preparing its new headquarters in Madrid.
Mateo Moreno, founder of the incubator along with Carlos López, pointed out that when they started up the incubator, they were seeking to completely distance themselves from phenomena like Pokemon Go: "We completely disagree that augmented or virtual reality can only contribute to video games. It has a much greater value."
Three start-ups have already benefited from the two entrepreneurs' endeavor: VirtuaFlow, which does experiential marketing campaigns for brands using virtual reality; 4Domo, which uses virtual and augmented reality in real estate to help and connect architects, promoters and builders, and Wideum, which promotes teleservice with augmented reality glasses in repairing industrial machinery.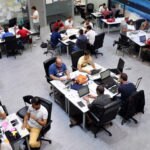 Oarsis is also behind Real or Virtual, a specialized media and reference for those who want to discover the latest news and technological advances. For Moreno, augmented reality is the "big brother" of virtual reality  and looking toward the future, he is convinced that "the boundaries between the internet and the real world will continue to blur. In 3 or 4 years, the cost of devices is going to drop and we're going to see mass consumption."
Also in Valencia, another group of entrepreneurs is putting trust in the possibilities of virtual and augmented reality. In early 2017, Innoarea Projects was founded. It's a spin-off of the Universitat Politécnica de Valencia, which like Oarsis, is fleeing from the world of video games. Amparo Caballero, Communications Manager for the startup, says: "We saw that it has great potential for companies. We're distancing ourselves from the 'wow' effect, and are focusing on the practical part of the technology to help companies' day-to-day operations."
Caballero highlights three fields in which virtual reality is used: "Prototypes, training and marketing". She explains that "virtual reality can be used for simulating work environments. It allows you to see how a new machine is going to turn out, or a home that is being built or the inside of a vehicle."
His company is highly focused on providing solutions to the 4.0 industry, and underscores the cost savings implied by using technology instead of manufacturing prototypes to scale. Another field he highlights is training: "Virtual recreation allows you to simulate risky situations, and resolve a situation as if it were in real life."
In marketing, "many brands use this technology in the narrative part in order to tell stories, but we use it in showrooms to show the company's product. For example, we can bring in heavy machinery from manufacturers in trade shows or conferences without having to actually transport them. We only need a three-by-three meter space to recreate those machines. We remove the physical barriers."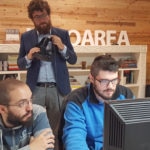 At Innoarea, they have specialized in four areas of augmented reality: Assembly and design of facilities, maintenance, teleservice and also marketing. Caballero adds that they use "HoloLens from Microsoft, devices like smartglass and we develop augmented reality on mobile phones and tablets".
In assembly, they use the HoloLens to discover how they're going to fit built machines into the space available. "Thanks to the totally real scanning of the space, we can simulate how the machine turns out, and the operator can clearly see how the installation is going to be," he says.
In maintenance, the glasses themselves indicate the steps to follow to fix a machine and teleservice uses video conferences with specialists thousands of kilometers away to resolve issues. Finally, marketing in augmented reality allows showing the product in 3D in the catalogs so that machines appear in full dimensions.
Caballero points out that these are uses that are going to revolutionize the industry. Although for that, he emphasizes that they still need to be "more widely used", so that companies can truly realize their potential, beyond just video games.