When the revolution lies in new ways of working together
Open innovation took center stage at South Summit 2018, where BBVA presented various tools, initiatives, and projects. With its participation in the event, the bank sought exposure to talent and ideas outside its normal ecosystem.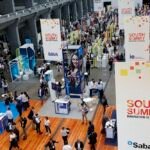 "If we want to lead change in the industry, we have to understand that the next great revolution will not come from technology, but rather from finding new ways to collaborate." This is how  Marisol Menendez, head of Open Innovation at BBVA, defined the Group's vision,  an ethos that advocates complementing the Group's internal innovation ecosystem with external partners to respond to the challenges of the financial sector.
During the South Summit event, BBVA's entire Open Innovation team was present at the BBVA Stage where some examples of the bank's spirit of  collaboration were on display: from the startup finalists in BBVA's competition, Open Talent, to  use cases for BBVA API_Market and examples of products like  BBVA Valora View,  which have resulted from the bank's willingness to work with other platforms.
A true exhibit of the different ways BBVA interacts and works with entrepreneurs. For example, events such as the South Summit provide ways for BBVA to actively connect with startups, to understand their business models and their value propositions, and to learn how the bank can help them, either directly or by putting them in contact with other potential customers or partners.
Furthermore, the BBVA Open Talent competition, which has come to be recognized as an international model for fintech startups, looks to identify the "the next big thing" in services for customers (whether retail or commercial banking).  It is another way to facilitate contact between entrepreneurs and BBVA business units. Each year, the program receives close to 1000 applications from startups from around the world.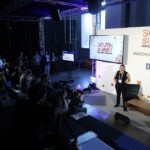 Marisol Menéndez, head of Open Innovation at BBVA, during his speech at the South Summit.
Aihnoa Campo, BBVA's head of Internal Ecosystem explained at South Summit how the bank is adapting its processes and procedures to be able to collaboratively develop projects with startups. "We learn a lot from their philosophy of speed and creativity." she stressed in her presentation.
BBVA Open Marketplace was also presented at South Summit. It represents a new mechanism created specifically to further facilitate interaction between BBVA and startups. From the portal, entrepreneurs can learn about BBVA's business challenges.
In addition to collaboration with startups and  other companies, BBVA's vision of open innovation includes opening its platform with its API Market, which was also front and center at the South Summit event.
Silo-breaking, flexibility, and speed.  These are some of the advantages of an open platform, according to Ricardo Segoviano, head of  BBVA API Market, who stressed the importance of finding good partners to find good use cases. "It should be understood that opening our platform, enabling what we call 'open banking' is not about creating multiple APIs; APIs are the tools. What is truly essential is the purpose behind those APIs." he explained.
In the spirit of discovering innovative uses for its APIs, BBVA held a hackathon where it awarded prizes to the participants who had the best ideas for reinventing travelling.
South Summit has been the perfect venue to show interested entrepreneurs and external businesses how they might work hand in hand with BBVA to transform the financial sector.